Local wrestlers find success at club level with HS season on hold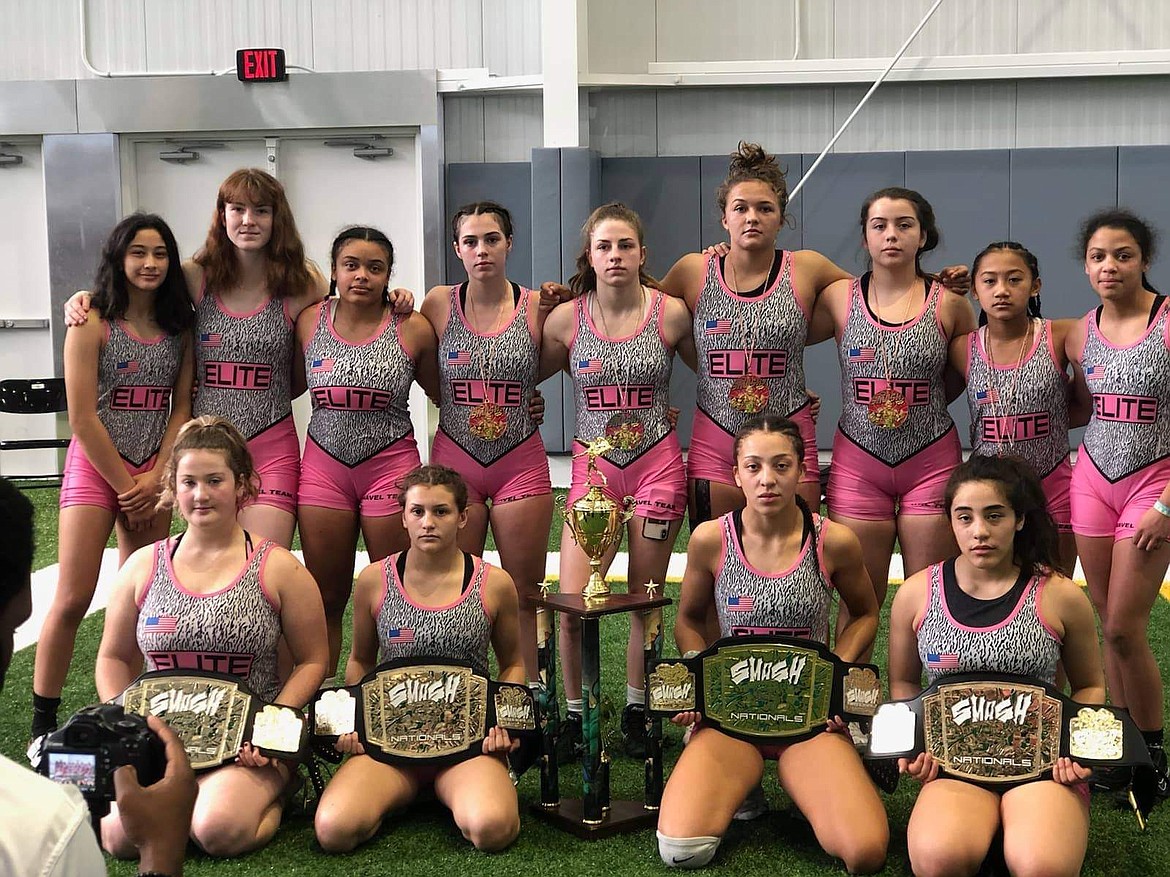 Shannon Workinger (top row, fourth from the right), Bianca Johnson (front, second from the left) and Emma Villa (front, far right) pose together with the rest of Ford Dynasty Wrestling Club dual team after taking first place at the Smash Nationals Tournament in Bullhead City, Arizona.
Courtesy Photo/Houston Johnson
by
CASEY MCCARTHY
Staff Writer
|
December 16, 2020 1:00 AM
With the girls wrestling high school season still waiting to get started, if at all, a number of local wrestlers have found success at the club level.
Columbia Basin wrestlers with Team Takedown out of Yakima took first place as a team at the Smash Nationals Tournament in Arizona Dec. 5-6, including Royal High School freshman Emma Villa, Quincy junior Shannon Workinger and Moses Lake's Bianca Johnson.
Othello High School's Iyazely Barraza and Moses Lake freshman Ashley Naranjo have also been training with Team Takedown as well, but didn't make the trip to Arizona.
With the success the girls have found competing in tournaments across the country, from Arizona to Iowa to Omaha and Nebraska, a number of the wrestlers are ranked nationally in their respective weight classes.
Coming into her senior season, Iyazely Barraza said she is ranked ninth nationally at 122 pounds. Last season, at the Mat Classic in February, she fell short of her goal of a state championship, but Barraza said she has her eyes on the prize again as she holds out hope of a high school season being held this spring.
"I'm just excited to get to wrestle again," Barraza said. "Even if there's not state, I'm just looking forward to trying to be a two-time regional champion."
While she didn't make the trip to Arizona, Barraza has been to a number of tournaments since her junior season came to a close, including finishing fourth at the USAW Brian Keck Memorial Preseason Nationals Tournament in Iowa. She said the experience has been great for her training, competing against wrestlers from across the nation.
One thing she said she's realized competing against girls from other states is that Washington girls are on "another level" in comparison.
"Don't get me wrong, girls from other places are good, but Washington girls are just a different level," Barraza said. "I've never seen the type of wrestlers I've seen from Washington when I'm at these tournaments."
Barraza said her mindset is completely different now heading into her senior season, compared to where it was at going into the season last fall. Now, she said she feels like anyone is beatable.
Girls who got the best of her on the mat the first time were taken down when she got the rematch. Stepping on to the mat, she said she just feels really confident right now.
"I feel good in my training and I'm just trusting the process and my training as well," Barraza said.
The Othello senior said she feels blessed to have the opportunity to continue wrestling with the season on hold. She thanked her mom for helping get her to all the places she needs to go, and her coaches for getting her to where she is today as a wrestler.
The "COVID year of 2020" has offered some hidden blessings for Barraza who said traveling and seeing the world more has offered her a new perspective on things while giving her the opportunity to see some other wrestling styles along the way.
Barraza said she is hoping her training and success on the mat can translate to her having the opportunity to continue her wrestling career at the collegiate level next year.
Emma Villa is heading into her freshman season with the Knights in Royal City, but she said she has been wrestling from a young age. First hitting the mat around the age of 5, Villa said she started competitively wrestling when she was around 8 years old, with her uncle and dad coaching.
Villa took first place as an individual in addition to taking the top team finish at the Smash Nationals Tournament in Arizona. She is nationally ranked at 132 pounds, and is the only freshman on the list at that weight class.
She said her ultimate goal is to make a USA world team and is hoping these tournaments will help give her the boost to reach that mark.
"It's kind of upsetting that I'm not going to have a high school season maybe, but it's a good opportunity to just keep training, just get ready," Villa said.
Competing against older girls in the 18U division at these tournaments has helped her feel prepared to face off against the experience she will see wrestling at the high school level, Villa said.
Even before she hits the mat for the Knights, Villa already has goals in mind for what she'd like to accomplish in her first season at the high school level. And she's not going to lower the bar.
Villa said her goal is to place at the Mat Classic, at least in the top four at her division. After the success she's found with Team Takedown, she said she feels she's on the right track to reach that mark.
"I think this has me very prepared, and I think we're going to have a good season if we do have one," Villa said. "It will definitely be interesting."
---