Driver shortage prompts MLSD to review bus routes
by
CHARLES H. FEATHERSTONE
Staff Writer
|
December 10, 2020 1:00 AM
MOSES LAKE — Citing a shortage of bus drivers, the Moses Lake School District is looking at temporarily eliminating up to six bus routes that serve students living in outlying areas of the district.
"As COVID-19 continues to impact our students, staff, and community, we must adjust our daily operations, including transportation, to accommodate quarantine-related absences," the MLSD said on its website.
The routes, which primarily serve families living north and east of the city of Moses Lake, will only be "eliminated as needed" based on whether staff is available that day to drive all the buses.
"The routes selected to potentially be canceled for a day were chosen to impact the least amount of students possible," wrote MLSD spokesperson Claren McLaughlin in an email to the Columbia Basin Herald.
The district said it will attempt to provide as much advance notice as possible of any route closures through the MLSD's messaging system, noting the closures will inconvenience and disrupt the daily lives of students and their families.
"Please be prepared with alternative methods to arrive at school if your route is closed. We also encourage students to be prepared to learn remotely from home," the MLSD website noted.
The routes subject to closure are 30, 39, 42, 44, 52 and 59 — both mornings and evenings. The district transportation website at www.mlsd161.org/apps/pages/transportation does not have a map online of its bus routes. However, you can locate your nearest bus stop — and the route it's on — by going to the bus route lookup utility, and typing in your address.
McLaughlin also said the district is currently hiring substitute nurses, teachers, classroom assistants, and bus drivers to fill in as needed.
Charles H. Featherstone can be reached at cfeatherstone@columbiabasinherald.com.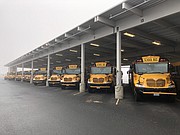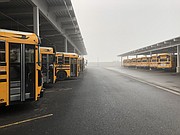 ---