The show goes on: Quincy High School drama club musical revue presents unique challenges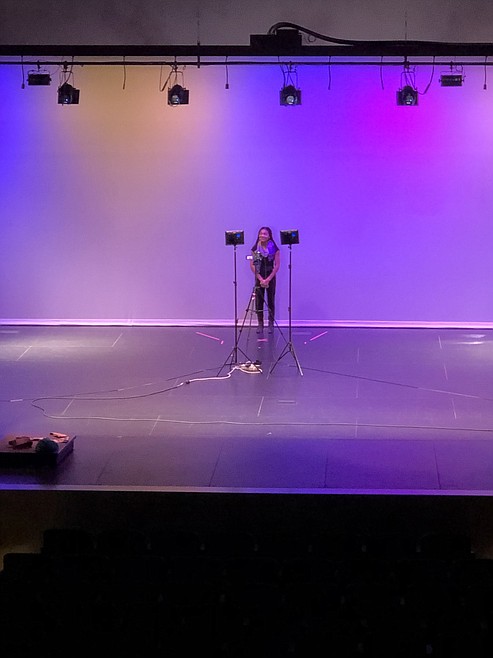 Joceline Schaapman performs alone on the Quincy High School stage during taping of the 2020 musical revue "Paciencia y Fe." Putting on a show in the age of the coronavirus presented some unique challenges, according to the director and cast.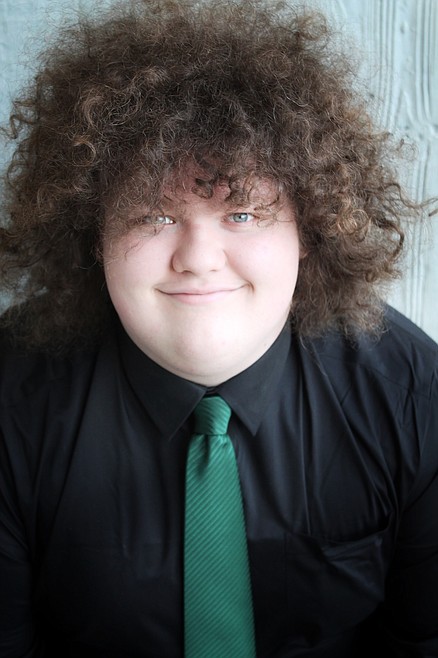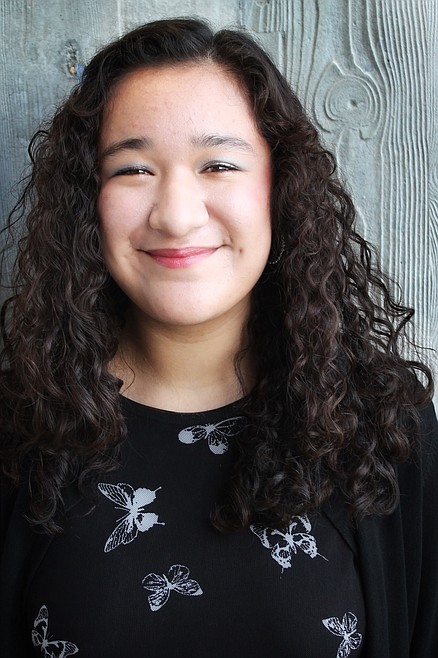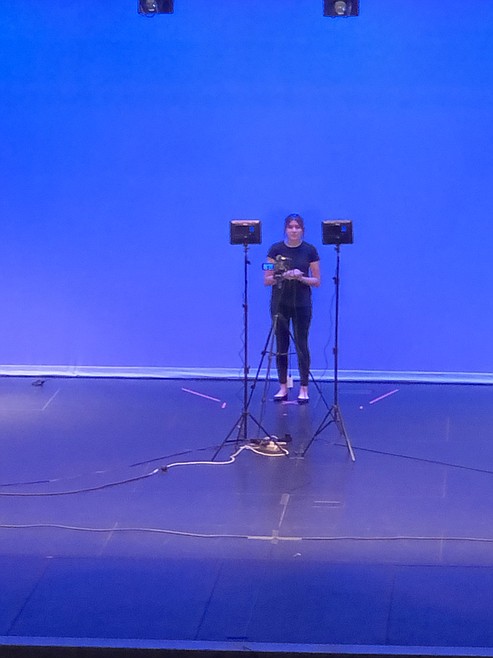 Stephanie Sanchez and the rest of the cast of the Quincy High School production "Paciencia y Fe" performed alone in an empty theater, one of the many challenges presented by the coronavirus outbreak.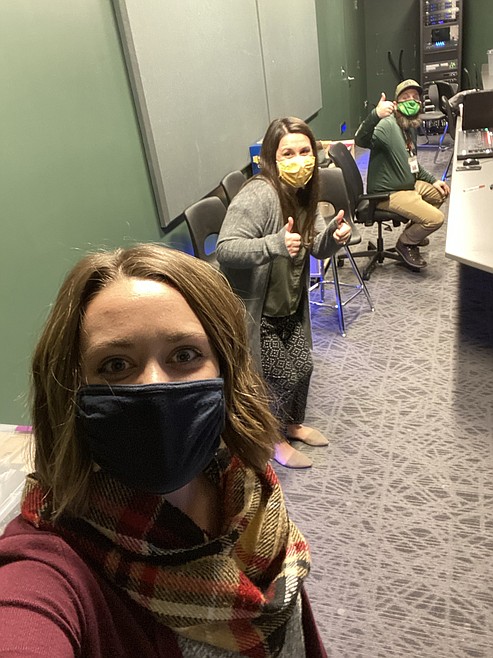 "Paciencia y Fe" directors (from left) Haliey Weber, Kylie Youngren and Justin Blalock pose for a group selfie. The 2020 Quincy High School production presented some "weird" challenges, Weber said.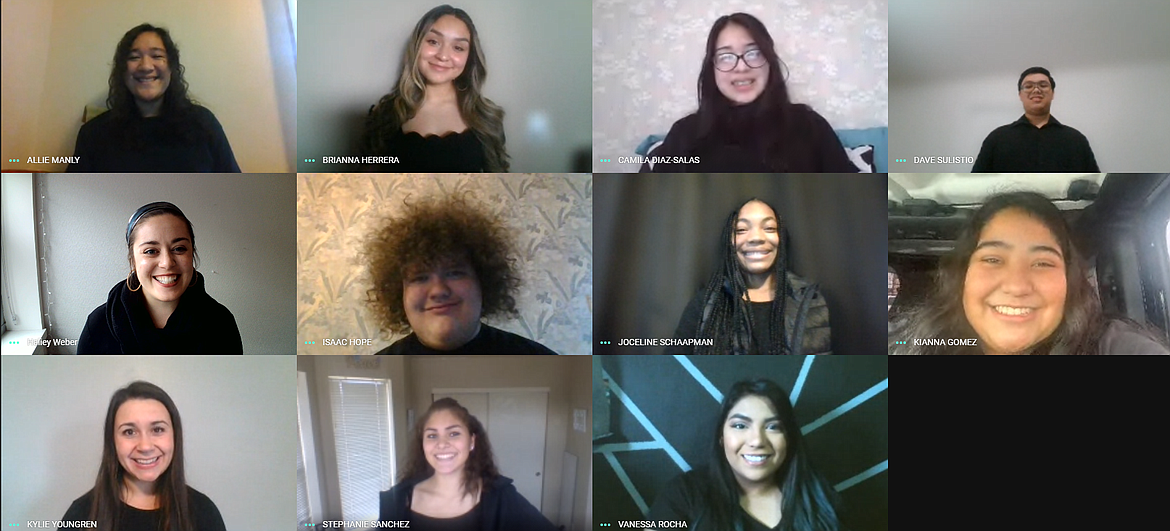 The cast of "Paciencia y Fe" gets together, virtually at least, for a cast photo. The Quincy High School production presented some unique challenges for actors and directors alike.
Previous
Next
by
CHERYL SCHWEIZER
Staff Writer
|
December 9, 2020 1:00 AM
QUINCY — The COVID-19 outbreak put the Quincy High School drama club in a situation that's all too familiar, switching to online from in-person.
Every fall, the drama club puts on a play, except this year a play wasn't possible in its traditional form. The performance had to meet the guidelines established by the QHS health and safety committee, which works with the Grant County Health District.
The advisors and students came up with something entirely different. The drama club's solution will be presented online at 7:30 p.m. Thursday through Sunday.
"The show is called "Paciencia y Fe,'" said director and drama club advisor Haliey Weber, or "Patience and Faith" in English.
"This has been the weirdest, weirdest process," Weber said.
Not only did the pandemic require finding a whole new kind of performance, but the cast had to rehearse without actually being in the same room. So, Weber decided on a classic of the theater, a musical revue where each performer would sing one or more songs.
She took the theme from the current situation.
"What does our world need right now? What does our community need right now? Hope," Weber said. "Each song is either about having hope or the lack of hope."
Rehearsals were mostly online, and when cast members did take to the QHS stage, they were in the room alone. Weber, musical director Kylie Youngren and multimedia specialist Justin Blalock watched from the booth, but otherwise the students were on stage in an empty theater. Weber said once the directors entered the booth, they stayed there.
"It was a very different experience," said Isaac Hope, a senior and drama club veteran. "You get a different feel from it."
Allie Manly, a freshman, said it was kind of hard, not being able to see the rest of the cast every day and share ideas, but it was a good experience nonetheless.
"It was fun. It was definitely not what I was expecting," Manly said.
It was the first time on the QHS stage for freshman Stephanie Sanchez.
"It wasn't all that bad," Sanchez said. "It was actually pretty good."
"There are definitely certain rewards from it," Hope said.
Cast members got extra one-on-one time with the director. In some ways it was easier since the entire performance was pre-recorded.
"You can redo," he said.
But it also presented some challenges.
"You have a different environment when it's just you," Hope said. "You get a different feel from it. You don't have as much connection with the material because you don't have as much connection with the people (the audience)."
"I bet it's way better in person," Sanchez said.
She sang to the directors in the booth.
"They were like the audience," she said.
The cast started rehearsing in early October, "which is actually pretty late," Weber said.
They rehearsed about five or six times, 30-40 minutes each.
"Never once seeing them (the cast) in person," Weber said.
That made it even more of a challenge, since this is Weber's first year at QHS, and she had only met two of the cast face to face. Some students were plagued by computer problems, and the theater had to be cleaned after each student performed his or her songs.
"Just obstacle upon obstacle," Weber said. "And yet they persevered. It's just so cool."
Jameson Varpness was the accompanist, and pre-recorded the music.
"I can't even tell you how proud I am (of the cast)," Weber said.
And there are members of the cast who can't wait to see it.
"I am super excited," Sanchez said.
Weber said she wants the audience to remember the revue's message.
"We just need to remember we need patience and faith, so we can have hope for a brighter tomorrow," she said.
In addition to Hope, Sanchez and Manly, the cast includes Kianna Gomez, Camila Diaz-Salas, Dave Sulistio, Brianna Herrera, Joceline Schaapman and Vanessa Rocha.
Cheryl Schweizer can be reached via email at cschweizer@columbiabasinherald.com.
---