Grant County PUD to vote on new contract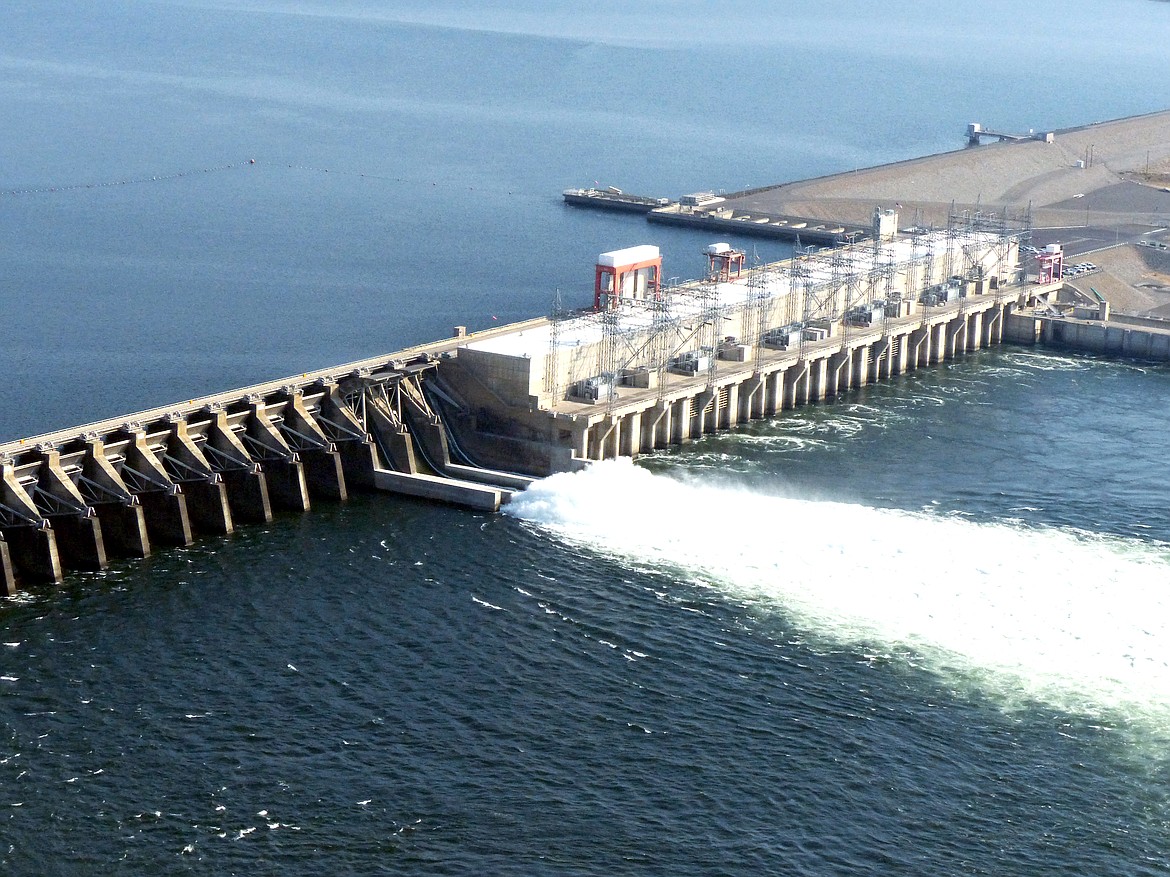 Grant County PUD commissioners will consider a contract to sell 20 % of the electricity generated at Priest Rapids (pictured) and Wanapum dams.
Courtesy photo
by
CHERYL SCHWEIZER
Staff Writer
|
December 8, 2020 1:00 AM
EPHRATA — Grant County Public Utility District commissioners will vote today whether to approve a contract to avoid higher electrical rates for customers.
Commissioners will vote on a three-year contract with Shell Energy North America for a 20% share of the district's electrical generation from Priest Rapids and Wanapum dams.
Rich Flanigan, senior manager of wholesale marketing and supply, said the utility is selling potential energy.
"We sell them the ability to create energy from our dams," he said.
In return, the PUD has the right to buy a previously-agreed amount of electricity at a previously-agreed price.
"We get real energy. Actual scheduled energy back from them," he said. "We sell and buy back at the same price."
The agreement, called a slice contract, provides two advantages for the PUD, he said. The first is a reliable source of revenue. The second is a guaranteed amount of electricity, even if there's a year with low water flows in the Columbia River.
A low snowpack means less water flowing down the river the following summer. Inadequate river flows mean there's not enough water to generate electricity to meet demand, which would require the PUD to buy electricity. Those additional costs eventually would be passed on to PUD customers.
With the slice contract, the buyer must sell power back to the PUD at the agreed-upon price, even if the buyer, Shell Energy Northwest in this case, has to buy higher-priced electricity to meet the obligation. This is the second slice contract negotiated this year.
"It (the risk presented by low water) would be pretty large and pretty hard to manage otherwise," Flanigan said.
Electricity is always in demand, but hydropower has benefits that make it even more attractive to some purchasers, Flanigan said. It's generated without producing extra carbon, which makes it valuable in places where there's a fee attached to carbon generation.
Over the last five to 10 years, hydropower has generated a premium in some markets, such as California, where the PUD doesn't have the structure to deliver power, he said.
Other companies have the ability to deliver electricity generated in the Pacific Northwest to those places, and pay a premium for the power, above what the PUD could sell it for, Flanigan said.
Cheryl Schweizer can be reached at cschweizer@columbiabasinherald.com.
Recent Headlines
---