MarDon Fresh News – December 4, 2020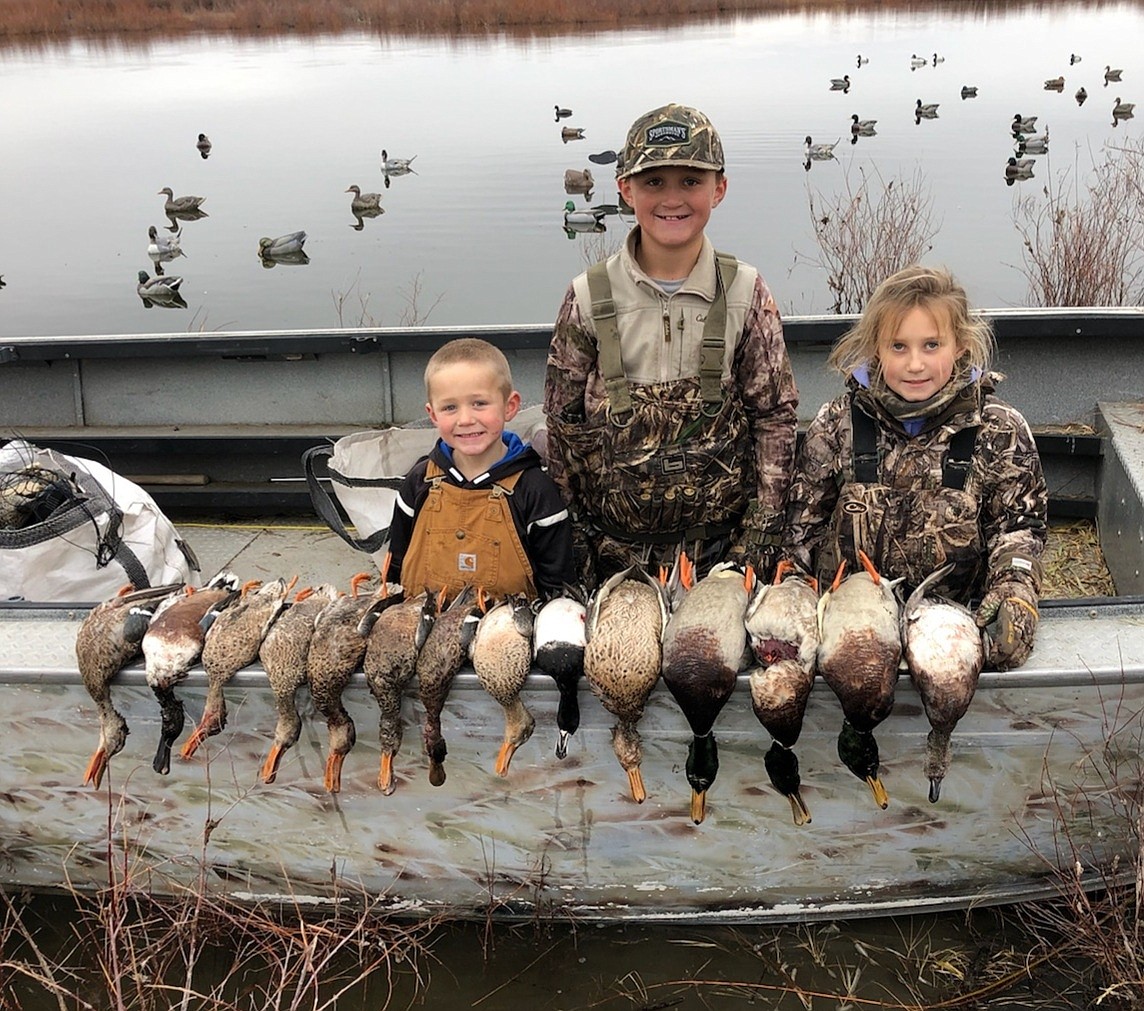 A quick limit for Levi and Mason with little helpers, Lillee and Hawkins Meseberg!
Courtesy Photo/MarDon Resort
by
Pete Fisher/MarDon Resort
|
December 4, 2020 1:00 AM
The current water level on the Potholes Reservoir is 1038.60 feet – up 2.01 feet over the past 10 days. The water temperature on the Potholes Reservoir is 41-43.1 degrees. With the cold nights the dunes are starting to freeze up.
The low and high temperatures have dropped quite a bit over the past 10 days. This is good for birds, tougher on the fishing.
The largemouth bass fishing has slowed this week. Look for largemouth on the deeper humps in front of the sand dunes. Fish skirted hula grubs, tubes, ½ oz. blade baits, and 3-4" fluke baits on a 3/8 oz. jig head. In 18-28 feet of water.
Walleye fishing continues to be fair. Jigging ½-ounce blade baits, curl tail grubs, Whistle Pigs, and trolling worms behind a 2-ounce bottom bouncer on a slow death hook with a crawler. Fish in 18-30 feet of water. Mark fish on the humps in front of the dunes and drop your jigs down. Fish the face of the dam with ½ oz. blade baits and swim baits.
Fish the rock piles around Goose Island, the face of the dam and the face of the sand dunes with Swimbaits, Ned Rigs, Hula grubs and drop shot lures for Smallmouth.
Not a lot of anglers targeting trout lately. Best bet: troll #7 Flicker Shad 100 feet off the back of the boat. Brighter colors seem to produce better. Troll at 2-2.5 mph. The Wicked Lures Trout Killer is another good option. Troll in front of the Potholes State Park. From shore – fish Medicare Beach with marshmallows and Powerbait and worms 18" off the bottom. Corral Lake, Soda Lake and Long Lake have been the top Seep Lakes.
Crappie and Bluegill fishing is getting tougher with the colder water temps. Look for schooled fish over beeper habitat boxes on the humps in front of the sand dunes. Fish Baby Shads, DS Frys and Trout Magnets on a 1/32nd oz. tipped with a maggot vertically jigged or with a slip bobber. Mark your fish – not just the structure before you drop down!
Duck hunting has been fair this week and is getting better as the temperatures drop – mainly local birds – with a trickle of new birds. We could start to get a push of Northern birds if it remains cold. Mixed bags of Mallard, Teal, Wigeon, and Pintail are being reported.
Call the MarDon Tackle Store for the latest fishing and hunting reports and resort information at 509-346-2651.
---