Feds release funds for port rail project
by
CHARLES H. FEATHERSTONE
Staff Writer
|
August 25, 2020 12:10 AM
MOSES LAKE — The Federal Railroad Administration has finally approved the Port of Moses Lake's revised Northern Columbia Basin Railroad project and released $9.9 million in long-promised federal funding.
"This is very exciting news for Moses Lake, and it's been a long time coming," said Don Kersey, executive director with the Port of Moses Lake.
The money will be used to refurbish roughly three miles of track crossing Stratford Road and heading west from there into the port property as well as to build five miles of new track along Wheeler Road that will connect with existing track.
In 2015, the port was awarded a $20.9 million state grant, bringing the total funding available to around $31 million, enough to begin both the rehabilitation work on the existing line and construction of the new line.
Work is expected to begin on refurbishing the existing rail line, or segment three, in the summer of 2021. The new rail line along Wheeler Road is segment one of the project.
"Segments one and three should be close to budget," Kersey said.
The rail line, which has been in the works for nearly a decade, will connect the Port of Moses Lake to the Burlington Northern Santa Fe railroad mainline at Connell via the Columbia Basin Railroad's terminal in Wheeler. This will allow rail traffic to bypass the current rail line through downtown Moses Lake and will allow for increased rail traffic to industries and businesses at the port.
Milton Miller, director of port operations, said that work on the final segment of rail to customers in the port, known as segment two, will not begin until funding can be secured. In 2016, the $31 million the port was awarded by the state and federal governments was expected to be enough to cover the costs of the entire project. Since then, however, estimated costs have increased significantly.
"As we move forward, we'll be looking for additional funds," Miller said.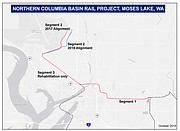 Recent Headlines
---