Big Bend nursing students excel through difficulties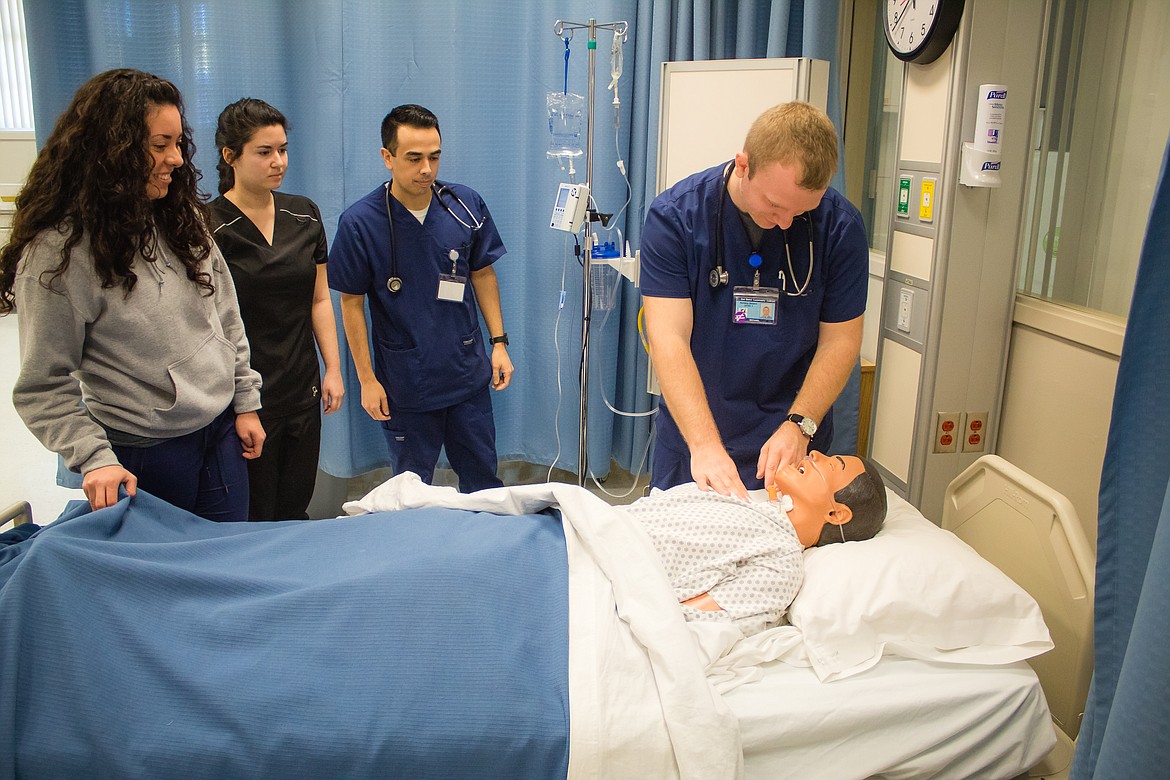 Courtesy photo From left to right: Previous Big Bend nursing school graduates Kayla Saenz and Victoria Shtyba SPELLING? look on as Victor Robinson and Michael Dickson practice their nursing skills.
by
CONNOR VANDERWEYST
Staff Writer
|
August 25, 2020 12:07 AM
MOSES LAKE — Pam Kortness knew she wanted to be a nurse since she was a child.
Danny Tracy wanted to switch careers from the business sector into the medical field.
Jennifer Dominguez saw the need for health care after visiting Mexico.
Nursing students come from all walks of life, and Big Bend Community College's nursing program has built a reputation of preparing its students well to enter and advance in the field.
This year, like many previous years, all 22 graduates of the Class of 2020 passed their National Council Licensure Exam (NCLEX-RN) — the final step before employment.
"We are so, so proud of them," said Director of Health Education Programs Katherine Christian. "We kind of do a countdown and as the results come in we get more and more excited. There's a lot of cheering going on when we got that last result and we do that every year."
Kortness knew she wanted to enter the field from a young age. When her children were grown, Kortness was able to return to school and fulfill her long-held dream.
Kortness described nursing school as "incredibly difficult," but commended her professors for being knowledgeable, available and supportive.
"I would just say the program is as good as everyone says it is," she said.
Kortness now works as a registered nurse for Samaritan Hospital in Moses Lake.
"I was inconsolable," she said. "I cried and was so thankful I was finally finished."
Tracy, a 35-year-old father of two, moved to Moses Lake — his wife's hometown — about six years ago. Certain that a career in business wasn't what he wanted to do until retirement, Tracy was referred to a career in nursing and after further research found that a reputable program happened to reside in the city he lived in.
"I had a career in business and accounting, but it just wasn't what I wanted to do for the rest of my life," Tracy said. "I felt like I wanted to get into the medical field and medicine and some people referred me to look into a career in nursing."
Tracy said he was thankful for the resources provided by the college that lessened some of the financial burden. That flexibility allowed Tracy to shift from his role as a financial provider for his family into a full-time student in a rigorous program.
"It was challenging because I had two kids already," he said. "It was a challenge going from being a provider by working to going back to school, so that was definitely kind of a challenge. Making some adjustments in life to going back to school and also being able to provide financially, but there's a lot of resources out there and a lot of people that are willing to help at the college level at Big Bend to help direct you in the right way to find resources to be able to go to school."
Tracy said he had to sacrifice more time at home with his family than he was used to. Play time with his kids or a romantic evening with his wife were replaced with hours in the library studying.
"Nursing school takes a lot of your time," Tracy said. "It's not something that you can just go into with a part-time attitude."
Tracy, like Kortness, is a nurse at Samaritan Hospital.
Dominguez became interested in the field as a teenager. A lifelong resident of Warden, Dominguez interned at Othello Community Hospital the summer before her senior year of high school.
"I just always had a passion for helping people and I actually went to Mexico a couple years ago and I just saw the need for health care, and so I started doing my internship in nursing and it just got me really interested," she said. "After I did that, I really fell in love with the nursing profession."
Dominguez participated in Running Start her junior and senior years of high school and then transferred to Eastern Washington University to complete her prerequisite courses. Dominguez then moved back to the Columbia Basin and enrolled in Big Bend's nursing program.
Dominguez now is a full-time nurse at Othello Community Hospital.
"I like to serve the rural community," she said.
Christian said nursing education at Big Bend started as a licensed practical nurse program about 40 years ago. Since 2003, Big Bend has offered a registered nurse program. Christian said the first-time NCLEX-RN pass rate for the college's graduates is over 99 percent.
The preparation students undergo for two years tries its best to mimic what it's like to be a nurse in the real world.
"One of the things that makes nursing education really challenging is that nurses are more than just the soft skills — the make you feel better, comfort you — that people tend to think of and we are that, no doubt," Christian said. "But there's also an amazing amount of technological skills that's required. Any hospital room is filled with computers of all kinds. The bed is a computer, the pumps are a computer, huge amount of technology. And then the knowledge that they are required to have is incredible. They have to understand the body, they have to understand diseases, they have to understand medications. What we are doing as a program is trying to raise them up in all of those areas."
As if the typical program wasn't difficult enough, this year's graduating class had to deal with a pandemic during its final quarter of school. Christian said the college learned at the end of winter quarter that spring quarter would be exclusively online, which led to online lectures and copious Zoom meetings.
"I was impressed with the swift action of our instructors," Kortness said.
Christian said she was thankful that from the beginning of the COVID-19 pandemic nursing students were designated as essential workers by Gov. Jay Inslee.
"I think it was really good for them to see the pandemic response, to see the infection control processes that were in place to protect them and the patients," Christian said.
For the students, it was just another test to pass on their way to a career. Nursing students with children, like Tracy, had to suddenly focus on schooling for themselves and their children. Typical study spots like Big Bend's library or a local coffee shop were closed.
Somehow, all 22 graduates finished their coursework and became the 13th consecutive class to complete their exams with a 100 percent pass rate.
"It was definitely challenging," Dominguez said. "I think since the beginning they really challenged us with just having to balance clinical hours and then class hours and exams. Now I see why they did it, just to prepare us not only for the exam, but for the real world in nursing."
---