Unusually quiet at Grant County Fairgrounds as animals arrive for the livestock sale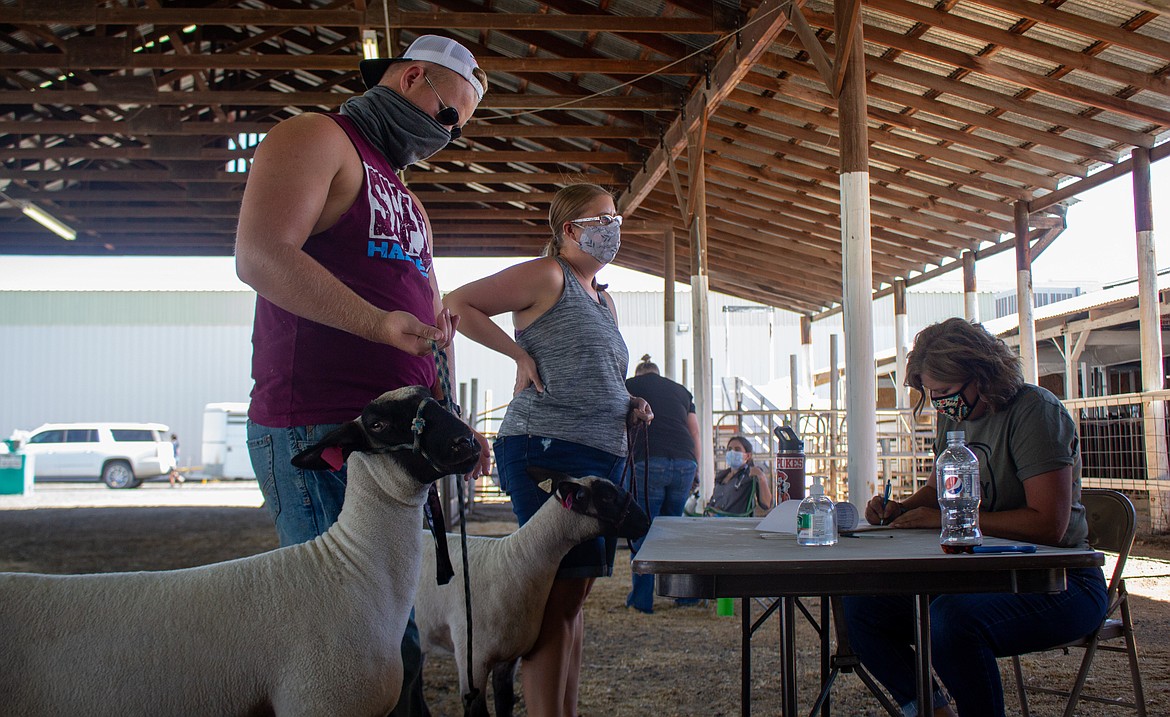 Kelli Hesse, center, checks in with sheep superintendent, Dawna Sandmann, as volunteer Rhody Raymond hangs on to Hesse's second animal for a moment on Wednesday at the Grant County Fairgrounds.
Casey McCarthy/Columbia Basin Herald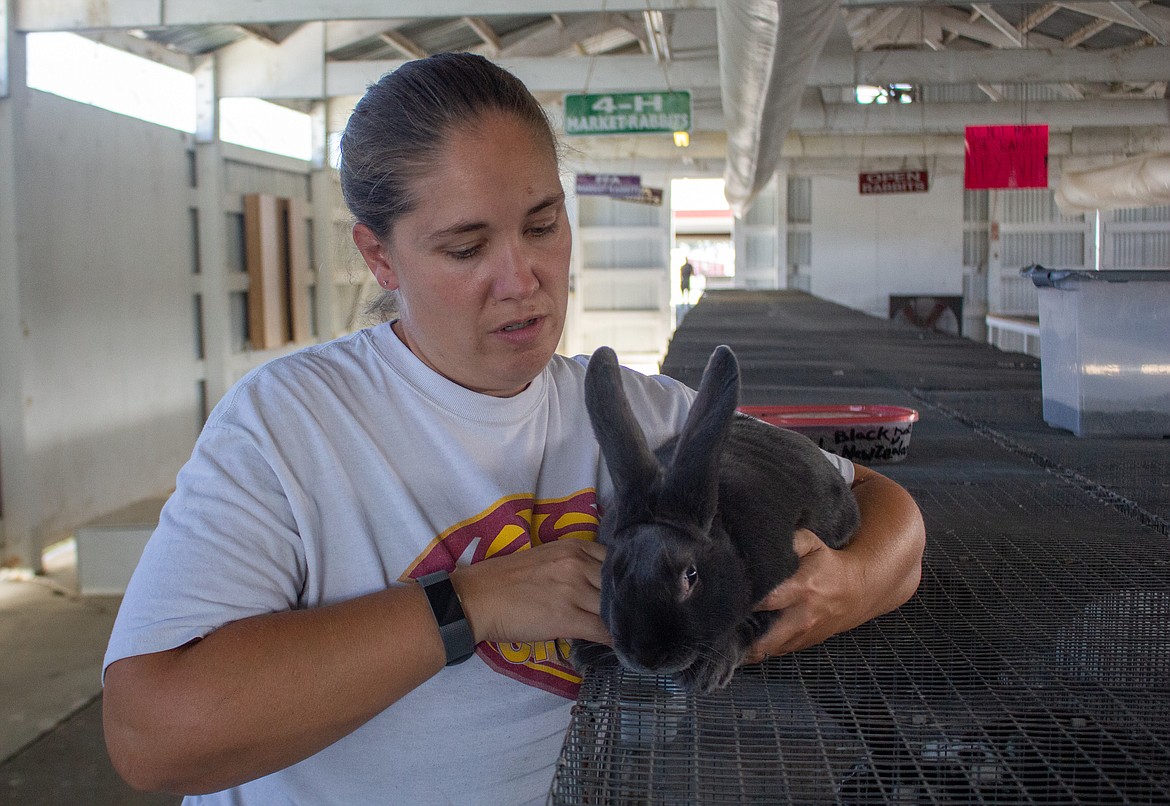 Liane Perkins, a barn superintendent and 4-H rabbit group supervisor, gently picks up one of the rabbits at the Grant County Fairgrounds for this week's livestock sale.
Casey McCarthy/Columbia Basin Herald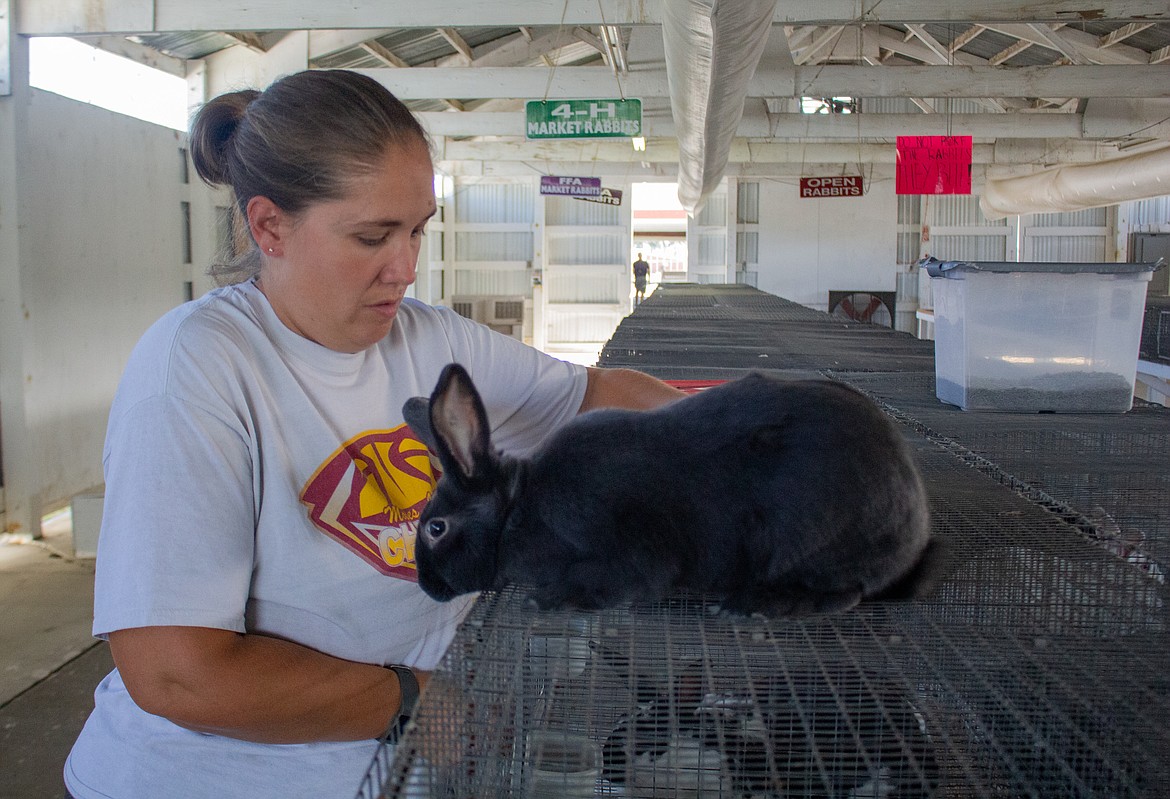 Liane Perkins, barn superintendent and Moses Lake High School teacher, closes one of the cages in the rabbit barn at the Grant County Fairgrounds while one of the market rabbits waits patiently atop the cages on Wednesday afternoon.
Casey McCarthy/Columbia Basin Herald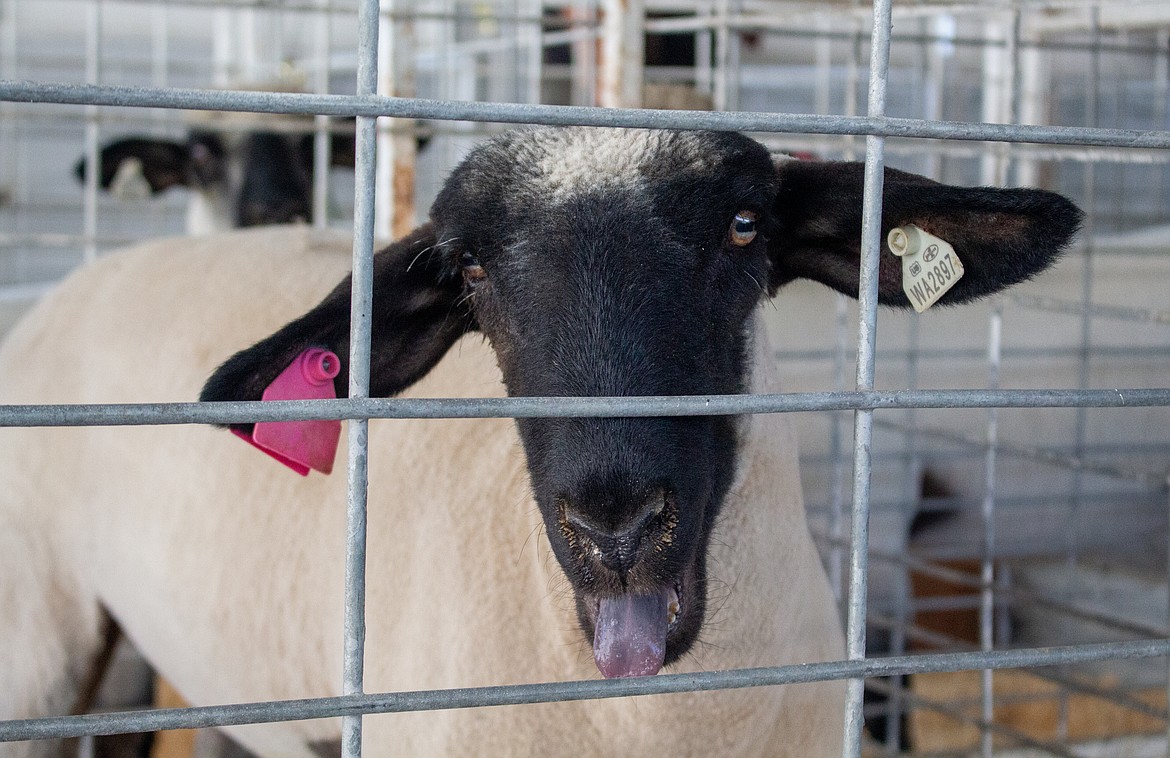 Livestock enjoyed themselves after arriving at the Grant County Fairgrounds on Wednesday before trying to take things seriously for the judges the following day.
Casey McCarthy/Columbia Basin Herald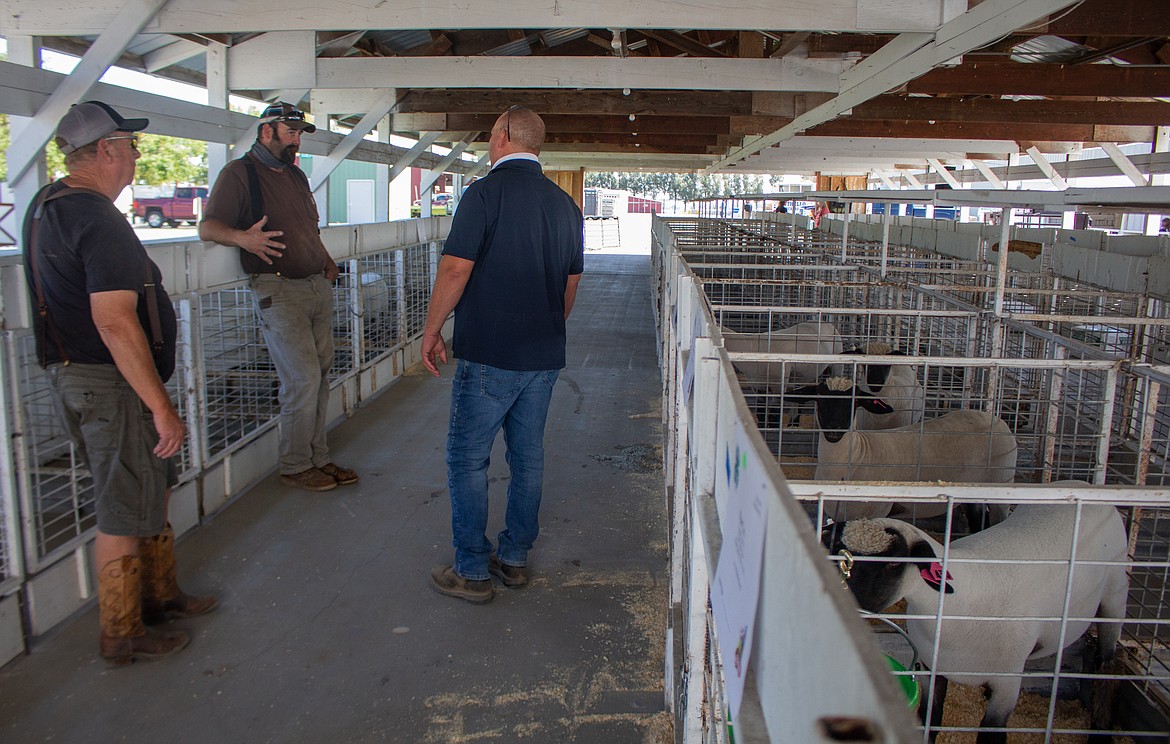 Left to right, Bill Erickson, John Nelson, and Andy Erickson take some time to catch up after dropping off animals for the livestock sale at the Grant County Fairgrounds on Wednesday.
Casey McCarthy/Columbia Basin Herald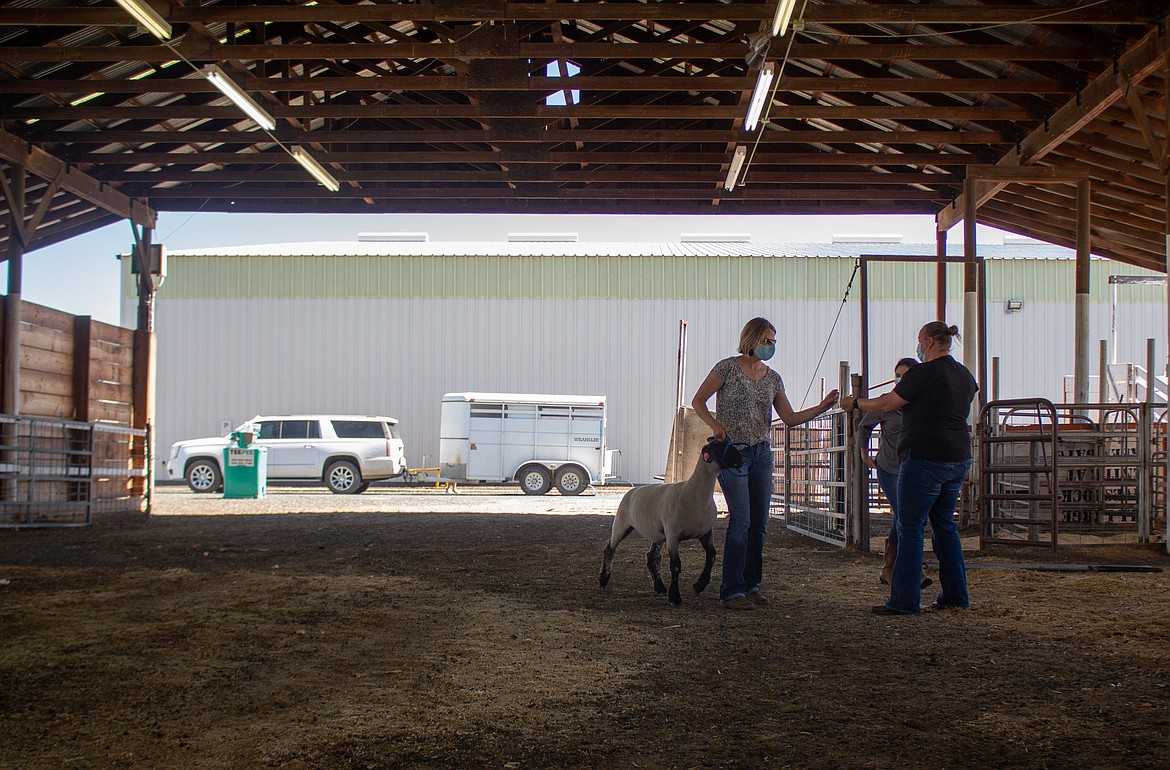 Samantha Rodeback, center, brings in livestock for her daughter, Brydon Stacy, on Wednesday afternoon at the Grant County Fairgrounds.
Casey McCarthy/Columbia Basin Herald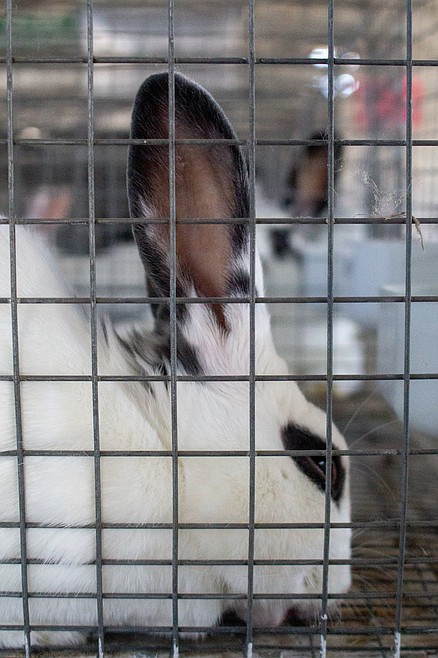 Market rabbits feed inside their cages in the rabbit barn at the Grant County Fairgrounds on Wednesday afternoon in preparation for this week's livestock sale.
Casey McCarthy/Columbia Basin Herald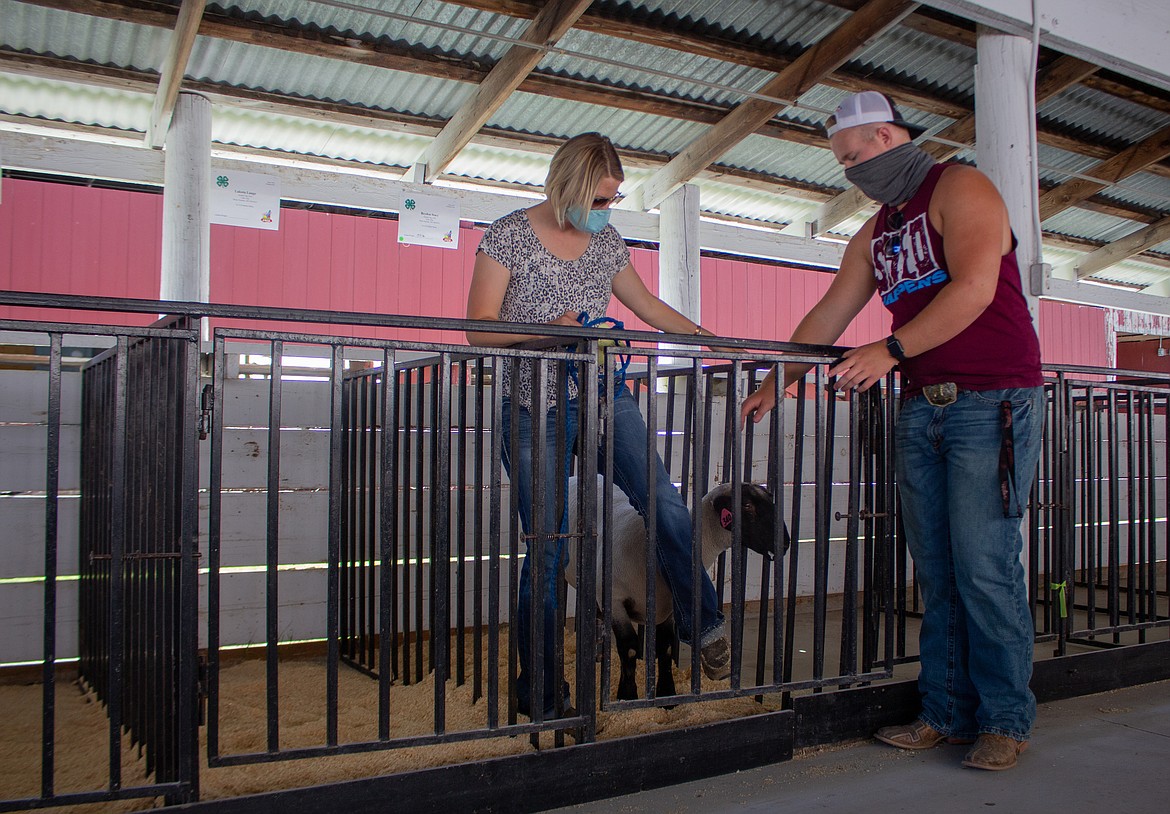 Samantha Rodeback and Rhody Raymond try to entice the sheep to stay inside the pen as Rodeback tries to make her way back out on Wednesday afternoon at the Grant County Fairgrounds.
Casey McCarthy/Columbia Basin Herald
Previous
Next
by
CASEY MCCARTHY
Staff Writer
|
August 19, 2020 11:54 PM
MOSES LAKE — Cattle, sheep, goats and other livestock arrived at the Grant County Fairgrounds on Wednesday, with animals set to be evaluated today and auctions to begin this afternoon.
Parents of 4-H and FFA participants brought the animals to the fairgrounds, with students asked to remain in their vehicle. While students weren't allowed to participate actively in the process at the fairgrounds, their fair projects are finally coming to a close, despite the fair being canceled this year.
Parents and volunteers will take over the maintenance and care for the livestock that would normally fall on 4-H and FFA participants.
Liane Perkins is a barn superintendent, 4-H rabbit group leader and science teacher at Moses Lake High School. Perkins' two children, Lucas, 10, and Paige, 14, have rabbits at the fairgrounds for this year's sale.
Coming in earlier this week to help get things set up, Perkins said, it was strange not having the typical commotion around the fairgrounds. She said it was nice to see some of the families and kids again Wednesday, even if it was only briefly.
"Knowing Monday would have been vet check day and all of the hustle and bustle that would have normally been going on, it was really surreal to be in here in a silent barn with no decorations, no kids, no posters on the wall," Perkins said. "It was sad."
While it's disappointing for kids not to have the typical opportunities the fair provides, she said she's grateful that they were able to see their projects through to completion. Kids will still be able to get feedback and education from their animals being judged on video.
"I'm super grateful that as a livestock committee and fair we were still able to pull that off for our kids," she said.
Perkins said she was introduced to raising rabbits when she moved to a farm with her family at age 10, and discovered the previous owners had left a pet rabbit behind. When she moved back to Moses Lake to begin her family, Perkins said, she and her husband wanted their kids to have a chance to be involved in 4-H as well.
"At the time, with the space we had, rabbits were the only option," Perkins said.
Including the two market rabbits being shown at the fair, Perkins said, they have 24 in total in their barn with two more litters coming around December. Grant County Fairgrounds annually hosts the Washington State Rabbit Convention, with hundreds, if not thousands, of rabbits filling the pavilion, Perkins said.
It was at this convention that she said she took her children to pick out their first rabbits about five or six years ago. The majority of rabbits being shown at this week's sale are New Zealand rabbits, a breed that can get to between 10 and 12 pounds depending on the gender.
While most of the market rabbits are around this size, Perkins said kids typically use a smaller breed of rabbit for their showmanship as it is easier to handle. "That was one of our concerns this year," Perkins said. "If the kids were going to be required to do showmanship, but only be able to use their market animal, we'd have 8-year-olds showing a potentially 10- to 12-pound rabbit, which is too big."
One of the great things about having kids participate in the livestock sale, especially with animals such as rabbits, is giving them an appreciation of all of the stages of life, Perkins said. While it is enjoyable to have a cute, cuddly, delicious animal to raise, she said, the kids also learn all of the hard work and compassion that goes with it.
---