Moses Lake football players, coaches look to keep busy with the season delayed until spring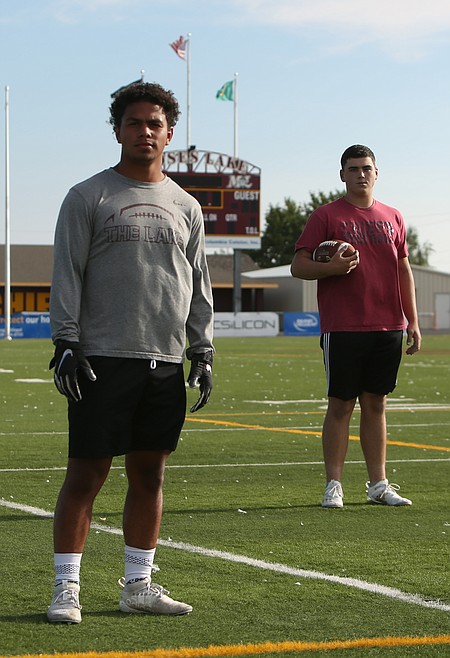 Connor Vanderweyst/Columbia Basin Herald Moses Lake seniors Lerenz Thomas, left, and Everett Ashley will look to make an impact when football season starts in the spring.
by
CASEY MCCARTHY
Staff Writer
|
August 12, 2020 12:01 AM
MOSES LAKE — In a time when practices should be gearing up and teams figuring out schemes, Moses Lake High School football players and coaches wait and plan for a unique season this year in the spring.
Moses Lake senior Lerenz Thomas said it gave him some hope that there's a plan in place to try and make the season possible this year, but admitted it will be different.
"It's gonna be a lot different because it's usually right now that we're starting up and trying to get in a groove," he said. "Now, it's kind of anxiously waiting, especially since it's the senior season."
Thomas said he's tried to look at the positives of having some extra time before the season, focusing on it as more time to train and prepare for his final year with the Chiefs. He said he's trying to take every opportunity he can in training and preparation to get better before his final high school season on the gridiron.
"You kind of just have to go with it," Thomas said. "That's all you can really do right now. I guess I'm just rolling with it like everyone else is."
On the plus side, Thomas said he's excited for the possibility of better weather with the season in the spring, avoiding the summer heat to begin the season and, hopefully, missing the cold that comes near the season's end.
Moses Lake head coach Todd Griffith said this will be the first time in 27 years he hasn't been getting ready for football in the fall.
"The fall's gonna be weird," Griffith said. "Since I became a head coach, I haven't bought a hunting license. I got a new puppy, and she's gonna learn how to hunt this fall."
Griffith said he's not going to spend his time feeling bad about not getting to play in the fall, and just looks to keep busy with things without the season going on. He said he's told his players to do the same.
"That's what I've told the kids to do, stay busy, stay active," Griffith said. "Do not waste time. In fact, my number one encouragement was go get a job."
Griffith said they've been posting online workouts each week for the kids, with Zoom meetings Monday through Thursday. The biggest issue right now is the lack of contact, both in person with players and on the field, he said.
"We've had zero face-to-face contact with our kids, I don't count the Zoom meetings as face-to-face," Griffith said. "Until we can get that done, there's really not anything we can do."
Griffith said he's continuing to hold out hope that Grant County can reach Phase 3 of the reopening process in order to hold meaningful practices with his players. While he wants to do things as safely as possible, Griffith said it's virtually impossible to hold anything productive with players during Phase 2.
"It's really absurd to try and bring out five kids at a time in Phase 2," Griffith said. "In order to do that, I'd have to have 20 sessions a day just with my 10th through 12th graders."
With 11 players on the field at a time, he said working out five at a time simply doesn't work. Having already lost practice time in the spring and summer football camps didn't help, he said.
Griffith said if any coach thinks they're going to be the same team they were last year, they're being "ridiculous." With a shortened time to prepare the kids for the season, he said, they'll focus on doing what the kids can do, adding things along the way.
Everett Ashley, a Moses Lake senior, said it's disappointing. Ashley said there's a certain feeling about playing football in the fall that he'll miss. Despite his disappointment, he said, he thinks the players can adapt and make the most of the season in the spring.
"Although we're all disappointed that it's not happening when it's supposed to, I think we can adapt to how it is and what we will be able to get," Ashley said.
After taking over at quarterback during the season last year, he said he's looking forward to coming back for a full season at the position. Ashley said he feels the experience he gained last year will help coming into this season.
"I think I'll be ready to lead the offense, and I know the offense pretty well," he said. "Any changes that will happen to the offense, I think that I can get used to it, figure it out. Whatever I have to do to get ready, I'll make sure to do it."
Coming right out of wrestling season into football might be a benefit, Ashley said. Typically, he said, he's in his best shape all year right after the wrestling season ends.
Even with the alterations to the athletic calendar next year, Ashley said he knows there is still a lot of uncertainty around these sports being held.
"I'm really hoping that all my sports happen, and I'll prepare myself," Ashley said. "When the time comes, I'll give it everything I've got, and hopefully I'm in the best shape I can be at the time."
Ashley said the only thing he can do is train as hard as he can and hope to be ready when the moment arrives.
---