New guidelines handed down for indoor fitness facilities in Washington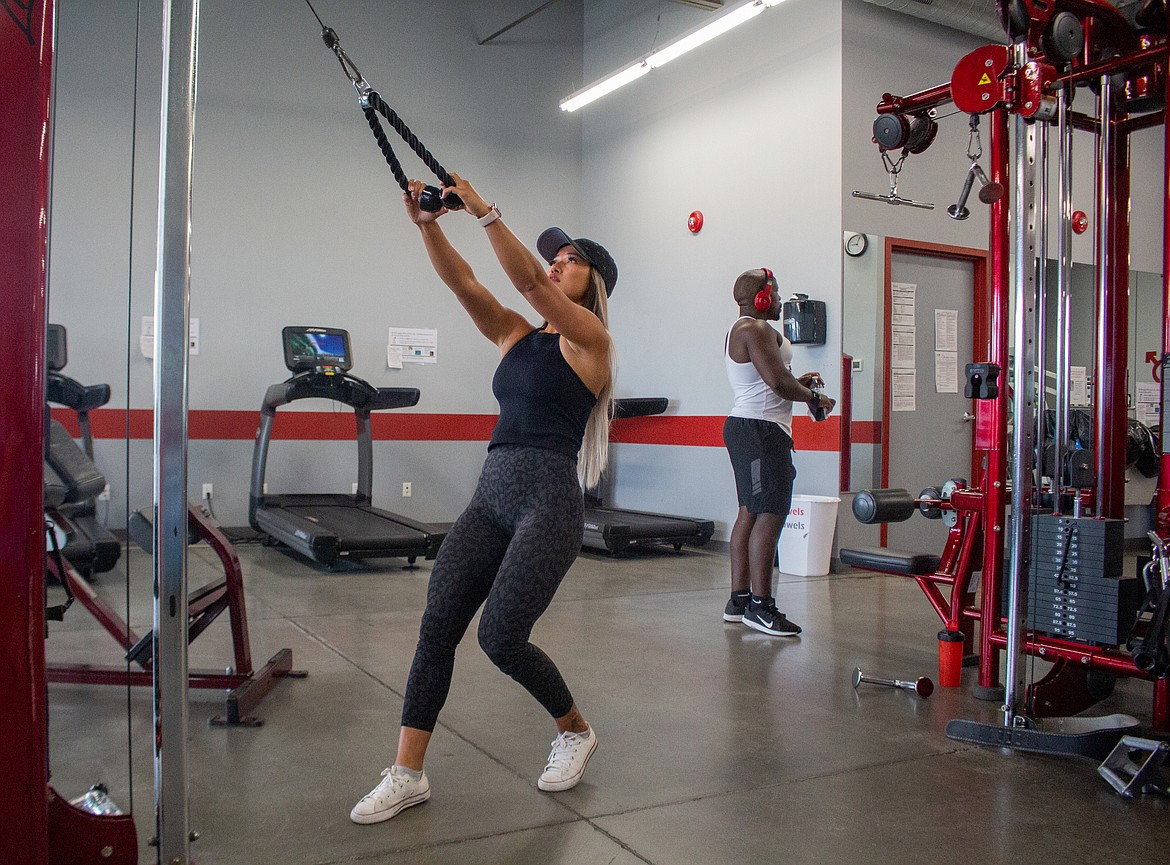 Evolve Fitness General Manager Emmy Winzler, left, gets in a workout of her own on Thursday afternoon in Moses Lake.
Casey McCarthy/Columbia Basin Herald
by
CASEY MCCARTHY
Staff Writer
|
August 9, 2020 10:54 PM
MOSES LAKE — An update to the requirements and guidelines for indoor training and fitness facilities was issued by Gov. Jay Inslee last week to go into effect on today, Aug. 10.
The update features a few changes for facilities in counties in Phase 2 or 3 of the state's Safe Start reopening plan. Changes include an increase in required distancing for indoor facilities from six feet to 300 square feet per person. Facilities must limit their maximum occupancy to 25 percent of their typical occupancy limit.
Face coverings will be required for all patrons not engaged in strenuous exercise. Gym members must immediately put on their face covering before and after their exercise. Other new updates include changes to restrictions on independent fitness training, as well as guidelines for team sports activity in indoor locations.
Emmy Winzler, general manager at Evolve Fitness in Moses Lake, said last week the updates were concerning to her. Winzler said she believes the added distancing guidelines are a bit unnecessary and make it harder to keep the gym operating.
"To be honest, it's going to be very hard to maintain 17, 18 feet apart like the governor asked us to," she said. "We're going to be relying on members' support, by continuing to show up, not dropping the membership, respecting the mask order, the social distancing, to keep the business open."
Winzler said she is concerned people might be hesitant to continue coming to exercise with the added restrictions. She said having a healthy body and immune system could prove vital for people if they were to be afflicted by COVID-19.
"That is my biggest fear if everybody stops exercising and their immune system is compromised," Winzler said. "That really puts them in danger with this virus going around."
With the new guidelines going into effect, Winzler said she thinks the fitness center will be able to keep 10-12 people in the gym at a time. The gym was allowed about 15-20 people before the updated guidelines according to its size but did reach that number at one time.
Jose Zambrano, manager of South Campus Athletic Club, said the center has tried to stay ahead of the requirements and changes in guidelines since reopening. While its maximum capacity will be reduced quite a bit under the new guidelines, Zambrano said members are just happy to have the gym open.
"Since we are the largest gym here in Grant County, our count is really high as far as how many people we can have in the building," Zambrano said last week. "Right now, even though we have a max capacity, we haven't reached that limit yet, not even 75 percent of the max capacity allowed through the governor's orders right now."
The free weights area is one spot of the gym Zambrano said he feels will be especially affected by the new distancing guidelines.
"We have plenty of cardio equipment around the gym, so everyone kind of disperses," Zambrano said. "But the free weight area, everyone tends to want to use that room the most."
He said the center has been lucky to have strong support of members who understand that the policies put in place are not the gym's decision.
Winzler said it's been a challenge navigating the updates and changes, and she believes it's going to continue to be a challenge. Seeing the smiles of members as they come in, even if it's hidden under a mask, makes it all worth it, she said.
"It makes the 14- to 15-hour days worth it for us," Winzler said. "And I think we positively know that we're going to get through this just fine with the support of the community. Our community has been awesome."
---