Columbia Basin Cancer Foundation continues meal program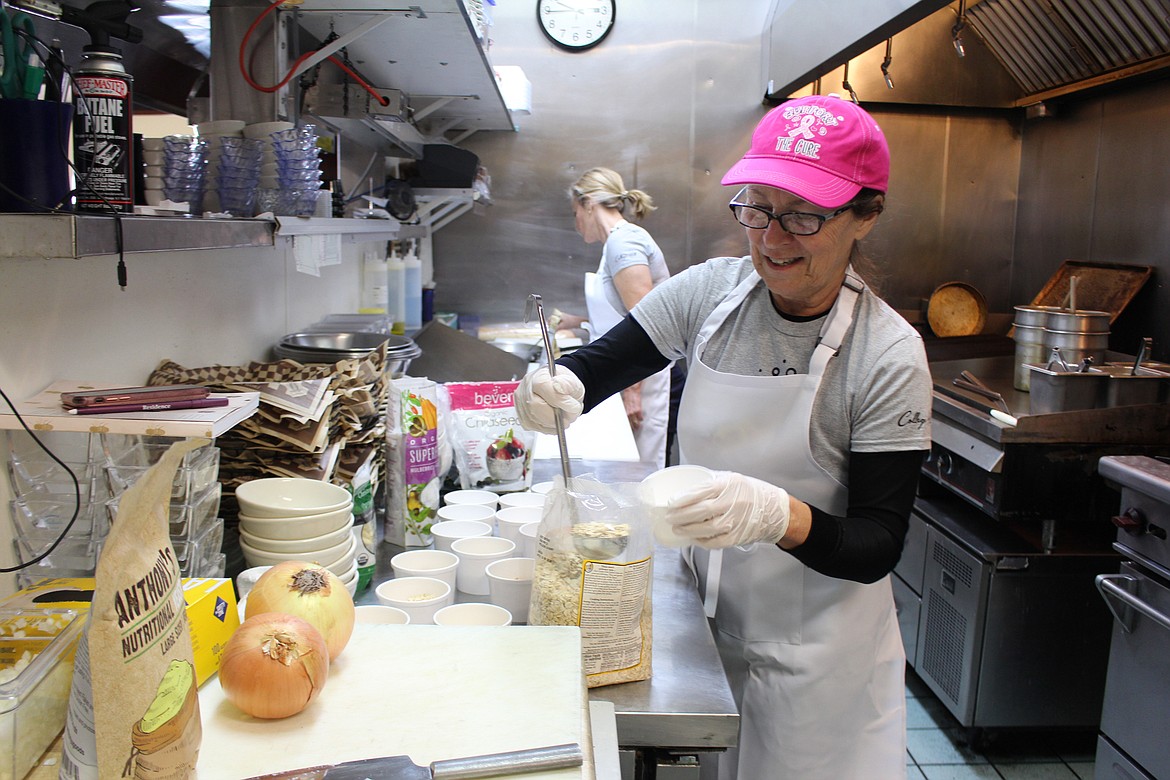 Debra Polito prepares "overnight oatmeal" to be delivered to Meals to Heal clients. The program, which provides meals for cancer patients, will continue during the pandemic through a partnership with local restaurants.
File photo
by
CHERYL SCHWEIZER
Staff Writer
|
April 29, 2020 11:15 PM
MOSES LAKE — A partnership with local restaurants is allowing the Columbia Basin Cancer Foundation to continue its Meals to Heal program. The cancer foundation's services continue to be available to patients, although some operational changes have been required to combat the COVID-19 outbreak.
Foundation director April Ledesma said in-person visits are by appointment only. Clients can contact the foundation at 509-764-4644.
The foundation is partnering with local restaurants, including Michael's Bistro and the Porterhouse Steakhouse, to provide the meals. Normally they are cooked by volunteers, supervised by chef Stephanie Maiers. But the restaurant that donates the use of its kitchen is closed, and Maiers, as a cancer survivor, has a compromised immune system. In that case, "we've turned to our local restaurants," Ledesma said, who are supporters of the cancer foundation.
"It's our chance to give back to our community restaurants," she said. "We really, truly appreciate them."
A meal is delivered weekly.
"We have a very solid group of healthy volunteers" who do the deliveries, Ledesma said.
The foundation provides food and gas cards for patients, helps with transportation to appointments, and provides hats and other head coverings for patients who have lost their hair. Volunteers make quilts to counter the cold that can come with cancer treatment. The foundation also maintains a library for patients.
The public's attention may have shifted to COVID-19, but cancer patients are still battling the disease.
"We have been getting masks for our clients," Ledesma said. Owners of The UPS Store in Moses Lake have been mailing the masks to patients free of charge, she said.
Spring is normally a slow season for donations, she said, so there's no estimate yet of the impact of the outbreak on donations. The foundation's biggest fundraiser for the year was held in February. "I feel confident we are able to continue helping people," she said.
Currently, the cancer foundation is partnering with Confluence Health Foundation on a fundraising project to build a radiation treatment center for cancer patients in Moses Lake.
"We've raised over $2 million," Ledesma said. The goal is $3.5 million. "Our campaign is going to take a little bit of a hit," Ledesma said.
Cheryl Schweizer can be reached via email at education@columibabasinherald.com.
---