Inslee extends "Stay Home, Stay Healthy" order through May 4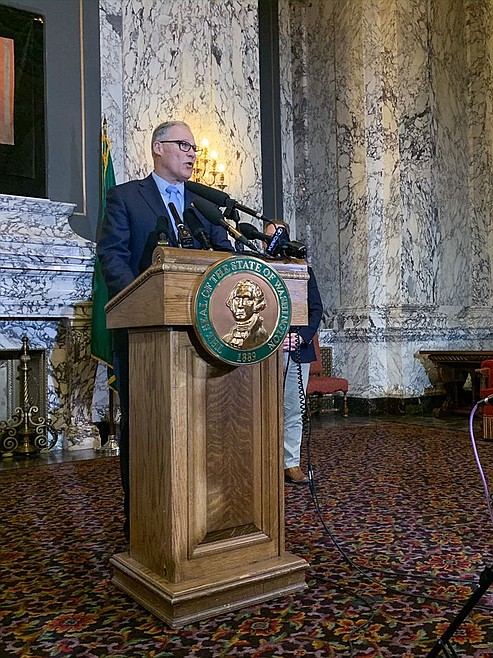 by
CHARLES H. FEATHERSTONE
Staff Writer
|
April 2, 2020 5:14 PM
OLYMPIA — Gov. Jay Inslee announced late Thursday that he was extending his "stay-at-home" order until May 4.
The order extends for 30 days the original two-week closure that was set to expire on Monday, April 6, which forced the shutdown of all non-essential businesses and large gatherings and commanded as many Washington residents work from home as possible.
"We have yet to see the full weight of the (COVID-19) virus in the state," Inslee said. "We cannot lose steam in the middle of the fight."
Inslee also called the order "morally necessary," noting that the steps the state has taken to enforce "social distancing" and limit or prevent the spread of the COVID-19 virus in Washington "appear to be working" and should allow hospitals in the state "to build up for the surge that appears to be coming."
Inslee gave the "stay-at-home" order two weeks ago. In addition, he also ordered schools statewide until April 24, though it now appears schools will likely not reopen until Monday, May 4.
"There are no new restrictions in this order," Inslee said. "But it's still important to reduce non-essential travel and contact."
Washington residents have shown leadership in that regard, Inslee said, reducing their contacts with other people by 80 percent.
"That's a good number," he said.
As of late Thursday, there were 6,585 confirmed COVID-19 cases in Washington and 262 deaths. Of those confirmed cases, 68 are in Grant County and another 20 in Adams County.
Washington State Health Officer Kathy Lofy, who also participated in the press conference, said the model of the outbreak developed by the University of Washington and used by the State Department of Health see the epidemic peaking in Washington "sometime around Apr. 11."
"But that's an estimate," she said, noting that the date changes as new data is gathered and fed into the model.
Inslee said he understands that a lengthened closure makes life a great deal more precarious for business owners and workers, which is one of the reasons he has temporarily banned evictions, worked out forbearance deals for mortgage payments and increased unemployment benefits. Congress also passed significant aid to small and large business people as part of the recent $2 trillion relief package.
But the best way to get the economy back and going is to social distance right now, Inslee said.
"One of the reasons we want to beat this virus as soon as we can," he said. "So we can reopen."
Inslee said that he was planning on vetoing several measures on Friday in order to help alleviate the state's money situation, though he did not specify which bills.
Finally, Inslee said he hoped that May 4 would be the final date, but it the data pointed to the need for another extension, he would consider it.
"I hope this will be conclusion, but the virus has a say in this," he said. "We don't want this springing back and biting us again."
Charles H. Featherstone can be reached at cfeatherstone@columbiabasinherald.com
---