Ephrata cowboy poet set to perform at Quincy FCAD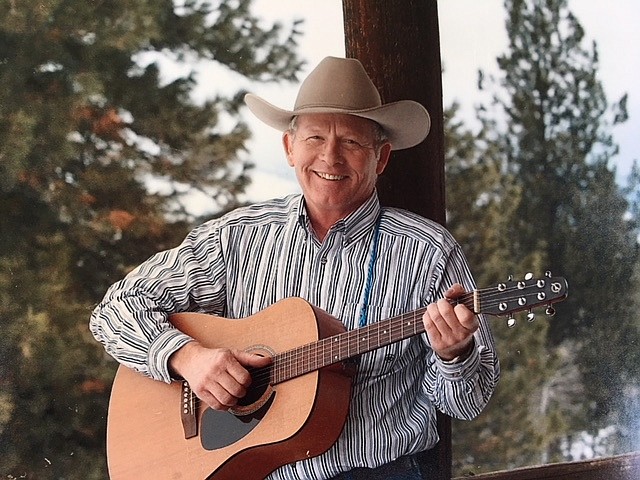 Courtesy photo Ephrata-based cowboy poet Glen Bair will be reciting poems and singing songs at Quincy's Farmer Consumer Awareness Day on Saturday.
by
Charles H. Featherstone Staff Writer
|
September 6, 2018 3:00 AM
EPHRATA — He writes and recites poetry, and sings songs, "for cowboys and people who have never seen a cow."
"I'm mostly a farmer," said 67-year-old Glen Bair, the Ephrata-based cowboy poet who is headlining at the Farmer Consumer Awareness Day event in Quincy this Saturday.
By farming, he means a little of everything — potatoes, wheat, alfalfa, peas, even sugar beets the year those growing them lost nearly everything.
"I farmed and ranched, wintered some cattle, shoed my own horses. I did what had to be done," Bair said.
But he's also a storyteller who tells tales in verse and rhyme, finding meaning and something to think about in very ordinary moments. At first he worked to find humor in most everything he could, but as time went on, Bair started seeing thing a little more seriously.
"My wife and I were raising nine kids, so if I had a serious thought, I tried to put it in a form they might think about it," he said.
Bair is bringing his poetry and music to the FCAD celebration this Saturday in Quincy at 11 a.m. and again at 12:30 p.m. He has performed across the Pacific Northwest since beginning in 1992, including hay and wheat fairs and opening for the Nitty Gritty Dirt Band one year at the Grant County Fair.
"It's half poetry, half guitar and singing, some old cowboy stuff," he said. "But it's mostly songs my friends have written, good kind of country-type stuff."
"I like rhythm and meter. My verse is not sing-songs, but it flows," Bair said.
For Bair, it's important that people listening to the story he tells in rhyme and verse make sense, and aren't left wondering at the end what it all means.
He also hasn't performed as widely as might, having published five "little bitty" books and two CDs of music and poetry, because he's not much of a self-promoter.
"I'm not what you call professional, but it's a fun hobby," Bair said. "I've been around a little, but I'm not a very good salesman."
But he's been around enough to spin a few tales and merit an invitation from the occasional festival and celebration.
"Once you get a poet started, it's hard to stop them," Bair said.
The Quincy Farmer Consumer Awareness Day is Saturday, Sept. 8, and includes a parade, musical performances, and a fireworks show.
Recent Headlines
---