Painting out of a corner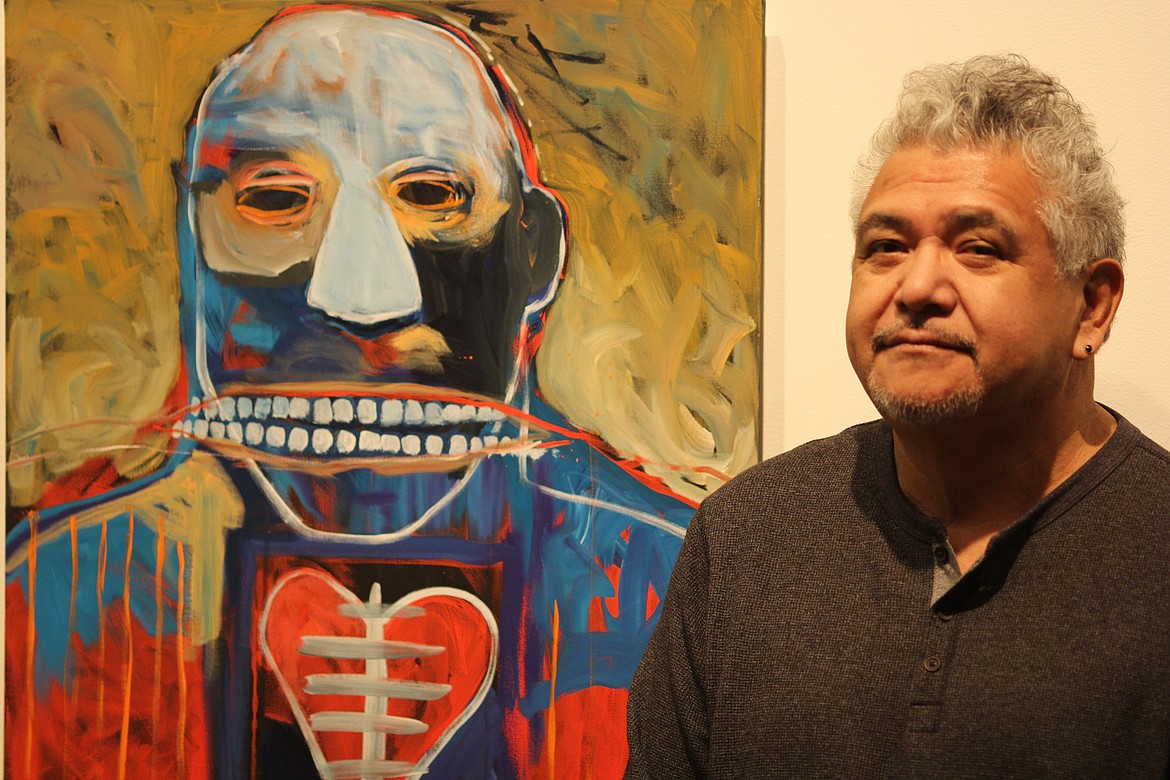 Emry Dinman/Columbia Basin Herald Ric Gendron stands next to his painting 'Artist with a Broken Heart,' which came to the Moses Lake art gallery on loan from the Northwest Museum of Arts and Culture.
by
Emry Dinman Staff Writer
|
November 18, 2018 9:00 PM
MOSES LAKE — On Oct. 3, just over a month before he was scheduled to open a showing of his art at the Moses Lake Museum and Art Center, a fire ripped through a number of residences in Elmer City, destroying the home and studio of Ric Gendron.
Though Gendron is still figuring out what comes next, he hasn't stopped painting, and he never intends to.
"I'll paint until I'm dead," Gendron said. "If I couldn't paint, I don't know what else I'd do. I've been a painter for 30 years, that's what I know."
Despite the fire, despite still looking for a place to call home, Gendron's exhibition still opened. On Nov. 16, dozens of his paintings were put on display in Moses Lake.
Though fire, smoke and water ruined Gendron's home, only a handful of paintings were seriously damaged. Some of those works were on display Friday, as the museum assisted in getting them restored through cooperation with experts in the Seattle area, but others came from friends who had accumulated Gendron's pieces over the years. Still others came on loan from the Northwest Museum of Arts and Culture, where Gendron's work is regularly on display.
A walk through the gallery shows that Gendron's style is fluid and shifting, and though all of the work seems to uniquely belong to him, they range from grim and violent phantasms to wistful and glimmering portraits of scenes from a springtime dream. None are tied tightly to reality or the style of Realist painters, and they seem to not be trying to mirror life so much as express it.
Gendron style is at once similar to so many before him and yet so completely and lovingly his own. His use of shapes is reminiscent of Gustav Klimt's gold phase, his at times violently hyperbolic characters display a flippant, chaotic nature evocative of Ralph Steadman's nightmarish sketches, while Gendron's affinity for bright, larger than life colors seems to sample from the vibrant folk art of South America.
Gendron takes inspiration such diverse sources as artist R. Crumb, the Rocky and Bullwinkle cartoon, and the music of T-Bone Walker and John Coltrane, as well as the collected works of the beat poets and an assortment of other artists both contemporary and long gone. His paintings are harlequin, jazzy, psychedelic, seeming to slip from worldly bonds in a desperate effort to relay some vital, illogical secret about life and the living.
Gendron is an Arrow Lakes Band Colville and member of the Colville Confederated Tribes, and many pieces of hiss art deals with the relationship between Native people and police, the Catholic Church and pop culture.
"He Was One Of Ours (Dodgin' Blue Bullets)," is among one of Gendron's most lurid, fantastical collages of colors and content, a portrait of man rendered down into his frightened, fiery core. The subject is bereft of individuality, his eyes blackened away, but his body is wrapped in vivid patchwork resting on wings that look to be dripping a bleary, molten gold. The painting represents a friend of Gendron's who was shot by a drunk Spokane police officer some number of years prior. An untitled painting nearby shows a demonic SPD officer at the fore, a caricature less human than some personification of hunger and murder, as childish stick figures lay dead and littered in the background.
Another, "With Tangerine Trees and Marmalade Skies," depicts native men dressed in vibrant marching-band coats, in place of an iconic portrait of The Beatles. Gendron often paints musicians and musical instruments, and music is a vital part of his creative process.
Friends of Gendron have set up a GoFundMe account to raise money for a new home and studio space for Gendron to continue painting to the tune of his favorite music. Those who wish to donate can visit www.bit.ly/GendronFire.
---