Quilt class at Old Hotel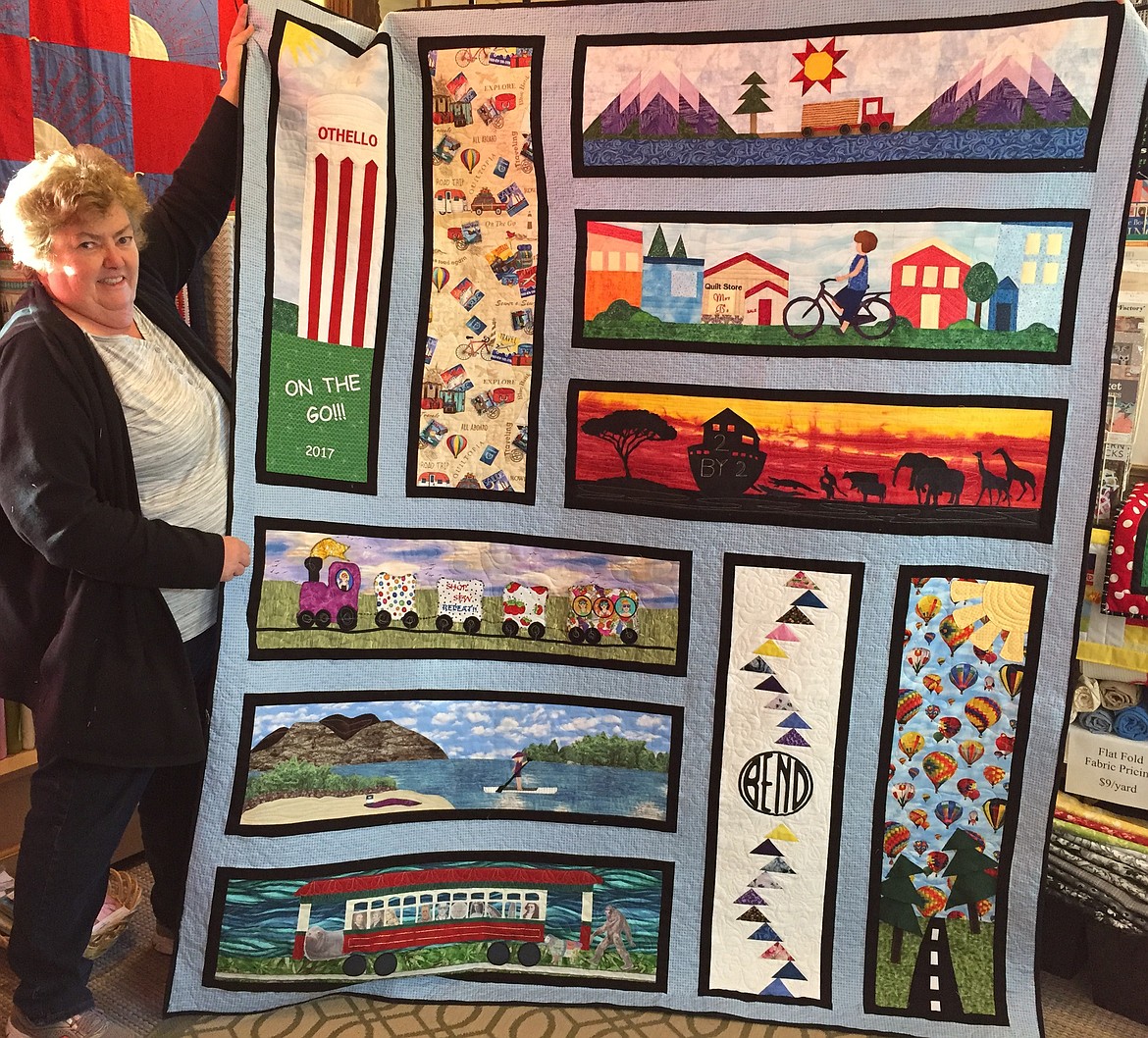 Courtesy photo One adult participant who finishes the Row by Row quilt will be eligible for a prize. Pictured is the 2017 prizewinning quilt.
by
CHERYL SCHWEIZER
Staff Writer
|
June 20, 2018 3:00 AM
OTHELLO — A quilting class for children who want to participate in the Row By Row project is scheduled for the week of July 17 at the Old Hotel Art Gallery in Othello. It's part of a statewide, and even national and international, quilting project.
Art gallery director Jenn Stevenson said all Row By Row participants have directions and patterns for project quilts. There's one project for adults, a second for children.
The children's project is geared to kids and youths ages 7-18. "It's about getting kids to (learn) and love the experience of sewing."
Fabric shops in Lind, Ritzville, Almira, Grand Coulee, Twisp, Winthrop and Wenatchee, along with Othello, are among the 2018 participants. There are participating shops statewide, nationwide and in Canada. "Sew Musical" is the theme for 2018, and all the projects have musical elements from instruments to musical notes.
Copies of the patterns are available beginning June 21 at all participating shops, and are free. The Old Hotel has kits available for the children's project for about $15, Stevenson said.
The hotel has a limited selection of fabric, "some of the basics and some of the essentials," Stevenson said. Quilt patterns are sold also, and quilt classes are offered for adults.
The quilting class is one of many craft classes offered for kids at the Old Hotel during the summer. Projects offered include fingerprint art, fabric garlands and wreaths, pop-up cards, clay and painting beads. A class in "water painting, painting with water balloons and squirt guns" is scheduled for July 19.
Each class has a fee, and advance registration is encouraged, since space is limited. Classes are two days per week, 2 p.m. Wednesdays, and 9 a.m. Thursdays. A full class list is available the hotel and on its social media.
The art gallery also has craft classes for adults, along with other activities. A Ladies Night is scheduled for 5 to 7 p.m. July 6, featuring a wine tasting. The wines will be provided by Foxy Roxy Winery, Othello. The menu will feature items sold in the Old Hotel shop.
Cheryl Schweizer can be reached via email at education@columbiabasinherald.com.
---