'Feed the Mammoth' fundraiser Friday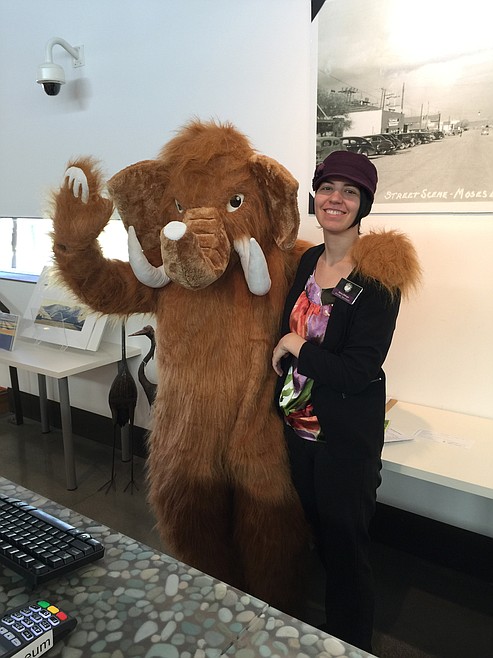 Courtesy photo Rusty the Mammoth will make his debut as the mascot for the Moses Lake Museum & Art Center during the museum's annual fundraiser Friday.
by
CHERYL SCHWEIZER
Staff Writer
|
November 16, 2017 12:00 AM
MOSES LAKE — The annual fundraising soiree for the Moses Lake Museum & Art Center is scheduled for 5 to 9 p.m. Friday at the museum, 401 S. Balsam St. Money raised at the annual "Feed the Mammoth" party pays for the museum's community programs, said museum director Freya Liggett.
"What you give goes back to the community," Liggett said. The money raised during the membership drive (including Feed the Mammoth) is used to pay for the museum's children's programs and its educational activities. Those include the monthly Free Family Saturday program, children's art classes and special programming during the year.
The more memberships, the more programs the museum is able to sponsor, she said.
Feed the Mammoth 2017 is held in conjunction with the opening of "Casually Capturing Life" an exhibit by Moses Lake photographer Justin Alaniz.
The photographs of Walter Klockers will be featured in the museum store. Klockers, along with his job as pastor of Immanuel Lutheran Church, is a "macro-photographer," focusing his camera on the small details in his subjects. The museum exhibit will feature insects. "The detail is absolutely incredible," Liggett said.
The membership drive also includes a food drive, which continues through the end of the year. As it's collected the food is donated to the Moses Lake Food Bank. For 2017, Moses Lake city employees are conducting an in-house food drive, spurred by a challenge from the city's finance department, Liggett said.
Santa will be at Feed the Mammoth to consult on Christmas wishes, and to pose for pictures. It's a joint fundraiser with the Moses Lake Business Association. The museum also will be selling boxes of See's candy.
The Feed the Mammoth party is named for the life-size sculpture of an ancient mammoth that dominates the museum's exhibit space. The museum also is selling toy mammoths as a fundraiser, and a mammoth named Rusty will be greeting visitors for the first time Friday night. "He's our new mascot."
The museum store will have all new consignment art, jewelry and other merchandise. Some items will be on sale.
Refreshments will be served, including hors d'oeuvres by Nicky Krost of Rockun Hog BBQ and a ho-host wine bar by Camas Cove Cellars. People who want more information can contact the museum, 509-764-3830.
Cheryl Schweizer can be reached via email at education@columbiabasinherald.com.
---