Better breakfast at a fraction of the price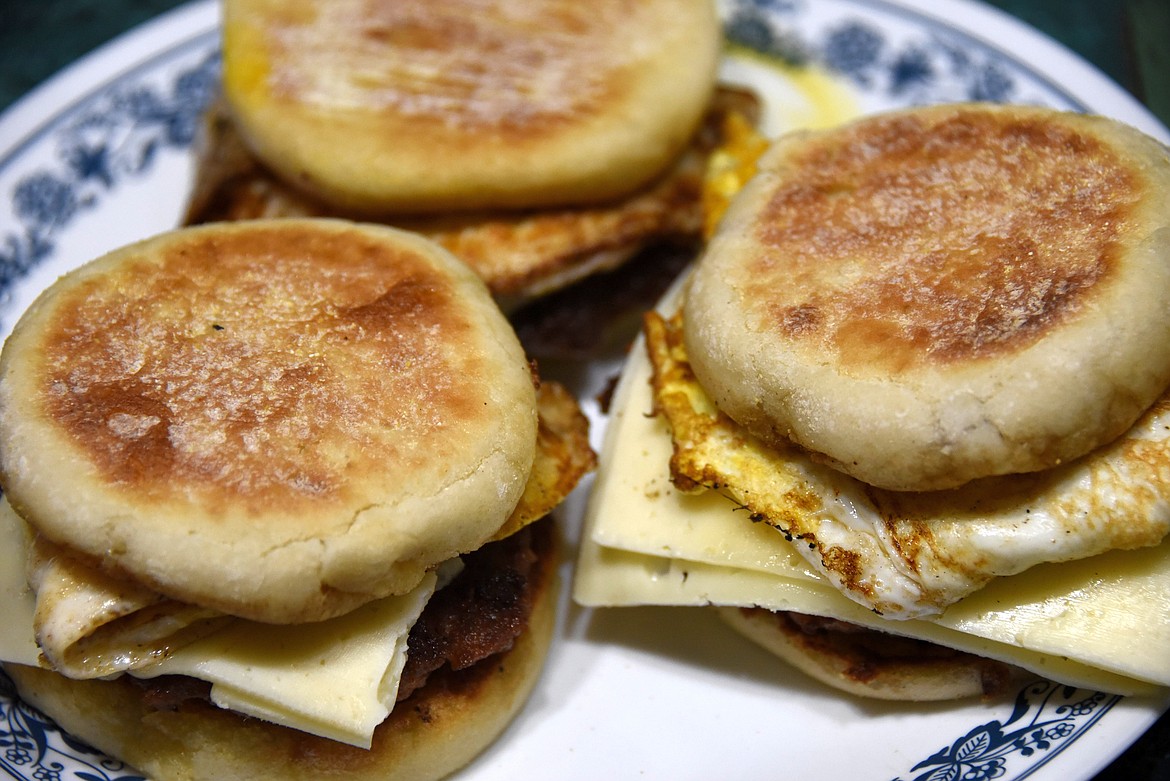 Dan Bolyard/courtesy photo Who needs to go to a drive-thru when you could make a better sandwich for less money?
|
January 24, 2017 2:00 AM
I like those breakfast sandwiches with sausage, egg, and cheese that you can get at certain drive-through restaurants in town. Trouble is, they always seemed so high priced to me. Last time I checked, you could get one for $2.79 for just the sandwich. A quick bit of unscientific research found that I could buy a frozen 4 pack of them made by a well-known sausage company for $6.69 at the local megamart. My problem with those started with the English muffins not being toasted, nor were they buttered. The meat was just cooked through, as was the egg, so both were bland in their own ways. This was just like the drive through version, though the English muffin there had at least a dab of "butter" on them. Of course, both had American cheese, which, given a bit of heat, melts into a gooey salty substance. Could I do better at home, for a comparable price?
I chose to go with ground pork, and add the seasonings I want. You can easily go with a pre-seasoned variety. I also tried ground turkey, which had a bit more moisture than the pork. I squeezed out as much liquid as I could before adding anything. You would want to stay away from the nearly fat free turkey, as it will cook up dry and crumbly. I made three patties from a one pound package, which wound up costing me about 72 cents per patty.
I like the nooks and crannies of the non-megamart brands of English muffins. They are not as soft so hold up well to the toasting process and have a better flavor over all. These cost me about 30 cents per muffin.
Eggs are still on the expensive side, though they are one of the cheaper ingredients per serving. Each cost me about 20 cents.
I skipped the American cheese and went with another mild version that melts well, Havarti. Cost was about 50 cents per slice.
Now for the butter, which did triple duty in this recipe. I figured I used about an ounce for each sandwich, with cost about 17 cents per ounce. I used part of it to fry the meat, then the egg, then toasted the muffin in the pan, which soaked up any remaining butter.
All told, each muffin sandwich I made was about $1.90 apiece. They had more meat, which made them a bit more filling, but I was able to brown the meat to the point of having crispy edges, the egg was just starting to brown, and I cooked it over hard, so the yolk was not runny, and the muffin had a good deal of browning, and enough butter that I wasn't choking on dry, chalky pieces of muffin.
---
DAN'S SAUSAGE AND EGG ENGLISH MUFFIN SANDWICH
1 pound ground pork or turkey
1 teaspoon salt
1/2 teaspoon dried parsley
1/4 teaspoon rubbed sage
1/4 teaspoon fresh coarse ground black pepper
1/4 teaspoon dried thyme
1/4 teaspoon crushed red pepper flakes
1/4 teaspoon coriander
Butter
Sliced cheese, of your choice, for 3 sandwiches
3 eggs
3 English muffins, split
Mix meat and seasonings together. Heat a frying pan over medium-high heat. Add a dab of butter and allow to melt. Form meat into 3 patties and place in hot frying pan until well browned on the first side before flipping over. Top with sliced cheese. Remove from pan to a plate and cover until needed. Crack an egg into a bowl and carefully slip into the hot frying pan. Break the yolk right way. Fry through on one side before flipping and continuing to cook to desired doneness. Remove from pan and place on one of the patties. Repeat process for remaining 2 eggs. Add more butter to pan, if desired. Swirl around a bit before adding English muffins, split side down, to the pan. Brown to desired doneness. Carefully remove from pan and place a meat and egg combo on half of the toasted muffins. Top with remaining muffin slices before serving.
Recent Headlines
---