Allied Arts soirée set for Jan. 27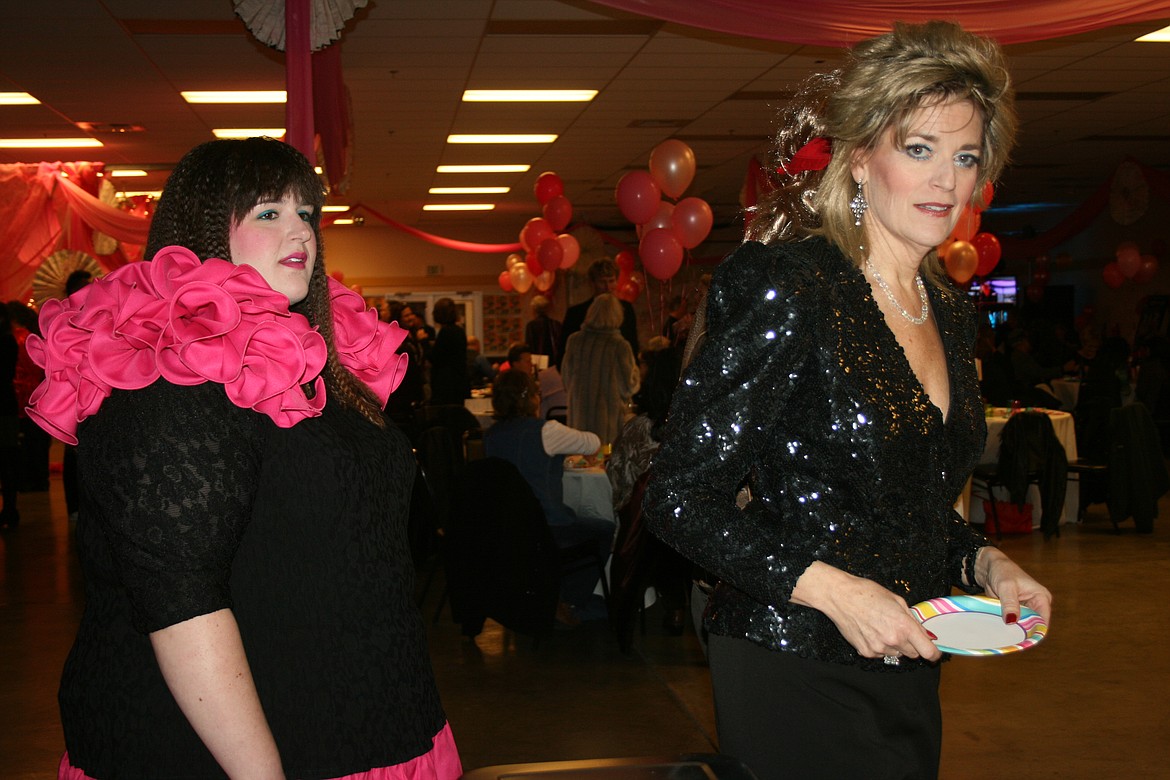 File photo Soirée-goers broke out their biggest-shouldered dresses to remember the 1980s at the 2016 Columbia Basin Allied Arts fundraiser. The 2017 dinner and auction is scheduled for Jan. 27; 'Under the Sea' is the theme.
by
CHERYL SCHWEIZER
Staff Writer
|
January 12, 2017 2:00 AM
MOSES LAKE — Tickets are on sale for the annual Columbia Basin Allied Arts fundraising soirée, set for 6:30 p.m. Jan. 27 at the 4-H building at the Grant County Fairgrounds. "Under the Sea" is the theme for 2017.
Proceeds go to the organization's program of live music, theater, dance, poetry and other art events, and promoting the arts in the Columbia Basin. The organization also has a separate outreach program for children, called the Green Turtle series.
The next Green Turtle performance is the annual visit of the Missoula Children's Theater; "Alice In Wonderland will be presented Feb. 11. The next Premiere performance, the Dallas Brass ensemble, will visit Moses Lake March 24.
Costumes are not required at the soirée, said CBAA director Ciara Shuttleworth, but in previous years many attendees have dressed up for the occasion. "I think we're going to see some mermaids, and I think we're going to see some Poseidens," Shuttleworth said.
Painter Erika Nicole, Moses Lake, is the featured artist, and did the painting for the soirée poster. "She's incredibly talented," Shuttleworth said. Nicole was one of three artists working on the CBAA mural project at the Grant County Fairgrounds in summer 2016.
Nicole said she had been coming to the fair since childhood, and her mural represented the things she remembered and loved – the carnival rides, the blue ribbons, the cowboy hats and boots. She added an abstract border, taking inspiration from quilt squares.
Dinner will be catered by the downtown Moses Lake restaurant Simmer. "They've got an interesting menu for us." Shuttleworth said, emphasizing hors d'oeuvres. The menu will include smoked salmon and octopus along with other seafood, meat and cheese platters, riblets, salad and soup. Dessert will be ice cream made by the Simmer chef and goat cheese cheesecake.
Wines are from Neppel Cellars, Moses Lake, and Ryan Patrick Vineyards, based in Leavenworth but with vineyards throughout central Washington.
Live auction items include paintings from Nicole and Moses Lake artist Kim Matthews Wheaton, and a ride-along with the Grant County Sheriff's Office. The silent auction has been discontinued in favor of something new, Shuttleworth said. Local business will offer an event – Shuttleworth cited a yoga class at H2O and a cooking class at Simmer as examples. Each will have a maximum number of people who can participate.
Tickets are $50 per person, $400 for a table of eight. They can be purchased from CBAA board members, or at ArtGarden Pottery, 104 West Third Ave. in Moses Lake, and the Moses Lake Chamber of Commerce office, 324 South Pioneer Way.
Cheryl Schweizer can be reached via email at education@columbiabasinherald.com.
Recent Headlines
---