Try this rich, thick oxtail soup
|
January 10, 2017 2:00 AM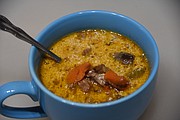 My family butchered its own beef when I was growing up. One of the things I don't recall ever seeing used was the meat in the upper tail, known as "oxtail."
Oxtail is literally the tail section of the cow, cut into manageable chunks. During my meat cutting days at the local megamart, we would get in long sections that we would have to cut into retail pieces. I've seen them for sale recently in vacuum-packed containers, ready to use as needed. What should you do with them?
My go-to has been oxtail soup, though I've tried to trim the meat out of a few of them when I was doing a hamburger recipe over a year ago. Oxtails are best cooked in a low and slow style, such as in a stew or a dish that calls for braising them.
OXTAIL SOUP
1 1/2 pounds oxtails
Salt and pepper
Olive oil
1 medium yellow onion, chopped
2 celery ribs, chopped
1 large carrot, chopped
1 large red potato, chopped
1 cup beef stock
1 cup red wine
1 clove garlic
Salt and pepper to taste
Pat dry oxtails with paper towels. Sprinkle with salt and pepper. In a large pot, heat 1 tablespoon of olive oil on medium heat. Brown the meat on all sides until golden brown. Remove meat to a plate when done. In the same pot, sauté the vegetables until brown. Add the stock and wine. Heat to a simmer, then add back the meat. Cover and reduce heat to low. Cook for at least two hours, or until meat is tender. Remove meat from pot and allow to cool. Carefully remove meat from bone and add it back to the pan, as needed. Adjust seasonings before serving.
Recent Headlines
---