Old Hotel's February Artist of the Month followed father
by
Chanet Stevenson
|
February 3, 2017 12:00 AM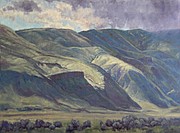 OTHELLO — Michael J. Lewis' passion for painting began when he was just a child. Having watched his artist father paint wildlife and landscapes growing up, it was no surprise Lewis decided to focus his own artwork in the same genres.
"There was no doubt I had a love for it and an ability," said Lewis, who is the Old Hotel Art Gallery's February Artist of the Month.
Lewis is a realistic impressionist who specializes in oil painting. For his showing at the Old Hotel, he plans to display about 12 pieces, focusing on the Columbia Basin.
Lewis taught art at Othello High School for 23 years and served on the Clymer Museum and Gallery's board of directors. He is a first-year member-at-large on the board now. He has also served as co-curator and juror for the 2014 Northwest Experience Art Exhibition at the Clymer.
Growing up in Wyoming, Lewis visited many art galleries in Jackson Hole, where he was able to meet many different artists.
"I had a lot of exposure as a kid," he said.
Lewis' love for art continued into college, and he attended the University of Wyoming on a scholarship, giving him the opportunity to study with various artists. Since then, his passion for painting has remained as bright as the colors upon the canvases he creates.
He particularly enjoys studying other master artists, examining their work and trying to figure out the techniques they used to create their pieces.
"I like a challenge," he said.
To begin a project, Lewis first conceptualizes a design, carefully thinking over which aspects of a piece to paint first and ways in which he can build it up from there. For example, if he paints a landscape first, he knows that he can always easily add in a person or animal later.
In his prep work, Lewis also likes to implement the Notan Method, pushing all of his colors to one end of the color wheel or another to create a sense of harmony and unity in his paintings.
Depending on the difficulty in more complicated pieces, Lewis will sometimes first sketch an idea before painting it. But before he puts the paint to the canvas, he begins every project with a prayer.
"I step up to the easel and take a knee to see what happens," Lewis said.
Of his own pieces, one of Lewis's favorites is a depiction of the Palouse Falls. It was this piece, Lewis said, that a Russian artist once dubbed a masterpiece.
Lewis explained that while he has a lot of paintings that are well crafted, his favorite piece he has ever done is that of a silly stick figure man he created on a post-it note. It was made for a student, he explained, one who at the time he could tell was unhappy. The post-it note art piece was his way of trying to brighten her day.
It is now 16 years later, and the young lady to whom he gave the post-it note recently reached out to Lewis on social media, explaining how meaningful the piece is to her and how she has kept it all these years.
"Art should never leave a person feeling confused or depressed after seeing it," Lewis said. "If my art touches someone emotionally by offering them calm, peace, hope, joy, or lifts them in anyway then I have used my gift well.  Even if it's a silly stick man."
With his art, Lewis has also done a lot of traveling, taking his art to a variety of shows and auctions.
Though he primarily depicts landscape, western, and wildlife images, Lewis said he is able to fulfill any specific art need.
"I can draw anything," he said.
Lewis is available for commission to work on a wide range of projects including family portraits, pet portraits and various other art projects.
To showcase his artwork and for contact information, Lewis has a website at micaheljlewisart.com, as well as a Facebook page and Etsy shop.
To kick off Lewis's Old Hotel showing, the there will be a progressive artist reception this Friday, Feb. 3, at the Old Hotel, beginning at 5 p.m. From there, the reception will move to Ironworks Cafe, where Lewis will host a painting demonstration at 6 p.m.
---