No headline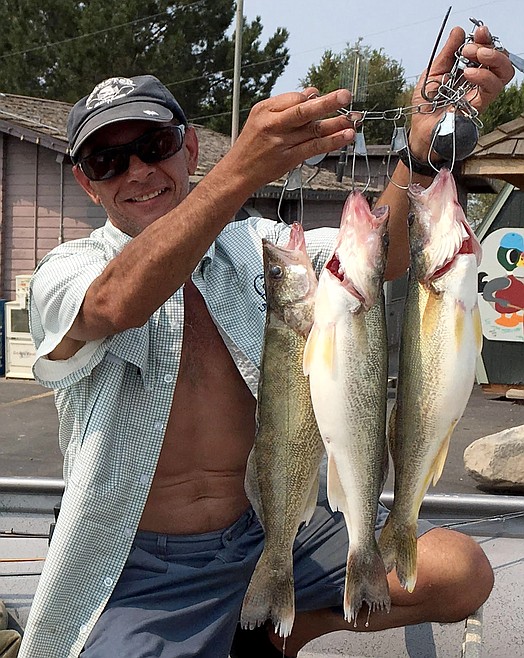 MarDon Resort/courtesy photo - Joe Poelzer of Everett with three nice keeper walleye. Joe was fishing a Smile Blade-Slow Death rig on the humps out from the dunes in about 10 feet of water.
|
August 25, 2017 1:00 AM
MarDon Fresh News – August 24, 2017
The water level has dropped another 1.50 feet this past week and is currently at 1027.80 feet – 17.50 feet lower than high-pool back in May. This is about as low as it will go this year according to officials. The water level will hold at this elevatoin for the next several weeks before feeding water back into the Potholes Reservoir. Use caution when launching your boat. The low water is making it extremely difficult if not impossible to get very far into the dunes. The water temps back in the dunes are in the mid-80s and main lake surface temp is right around 80 degrees.
The walleye fishing has been tough this past week – but should be improving as the water level has pulled the bait and walleye out of the dunes. Troll the face of the dunes and Goose Island with crankbaits in 8-15 feet of water Best bet – troll #5 or #7 Flicker Shads and Rapalas in perch, chartreuse, and purple colors. The Smile Blade/Slow Death Hook with half a crawler has been working as well.
Several reports of big crappie and big bluegills being caught fishing smaller crankbaits on the face of the dunes. The MarDon Dock fishing is fishing very good for crappie, bluegill and some perch. Dock fishing is only available to registered guests staying at MarDon Resort.
The Channel Catfish and bullhead is excellent right now! Fish around Goose Island and the face of the dunes. The best baits for the catfish and bullheads have been worms and Berkley Power Bait Catfish nuggets.
The largemouth bass fishing is incredible right now! The fish have stacked up on the face of the dunes and are feeding on the tremendous amount of baitfish in the area. Fish the face of the dunes with Rebel Pop-R's, Zara Spooks, hula grubs on a football head and wacky rigged Senkos. There have been reports of big largemouth and smallmouth bass coming from the face of the dam. Throw crankbaits, tubes, and 5" Kalin's grubs for both.
Trout fishing is fair for anglers trolling crankbaits and spoons along Medicare Beach and in the Lind Coulee arm of the Reservoir. The fish are running 2-4 pounds.
Upcoming Events
August 26, 2017
Lake Poker Run and Beach Party (A CWFAC Event)
All day event - challenging game competition with
payout, beach party, social fun w/ music and dancing
August 26-27, 2017
ABA Bass Tournament, Angie Dover
(206) 669-5983 | www.americanbass.com
Must be a member of ABA, sign-ups at the resort.
September 1-4, 2017
Yard Sale Saturday, Sept. 2nd / Labor Day Weekend
September 8-10, 2017
Skagen Jet Boat Weekend and Beach Party
September 15-17, 2017
Marathon Dock Fishing Tournament and Potluck
Recent Headlines
---