Biscuits and gravy make for a easy, filling meal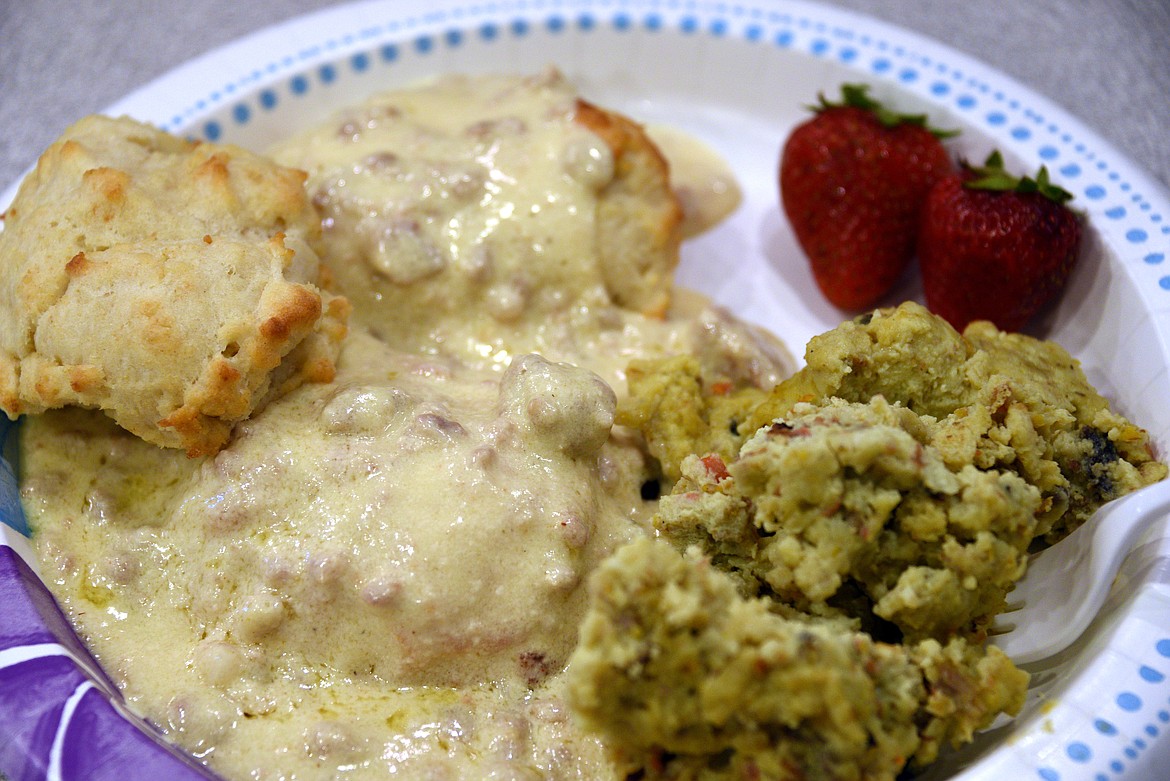 Courtesy photo/Dan Bolyard - A meal of biscuits and gravy can be made fairly quickly and inexpensively.
by
Dan Bolyard Grant County Gourmet
|
August 22, 2017 1:00 AM
I had the recent opportunity to make some biscuits and gravy for a small group of people. Have you ever made it from scratch?
Sure, you can go buy a tube of biscuits and make up a batch of some pre-made gravy, but you certainly cannot beat the flavor when you complete all the steps yourself. Now I do understand that some folks have time factors they are up against, and so a convenience product will have to pinch hit here. I get that. But if you get a chance, the biscuits alone are super easy to make and so very tasty. For this last batch, I made up a very large batch and instead of kneading out the dough I mixed it enough to make a shaggy dough in the bowl then used the disher I had a photo of a few weeks ago and just scooped out enough dough to kinda fill it, then placed it on the baking sheet. Easy stuff. Plus, I may or may not have taken a taste of the dough.
I've got a fair amount of home grown sausage in the freezer, but if I didn't, I would have no qualms about buying a tube of the pre-seasoned meat with a famous brand name. The blend is good without too much fuss. I do add some extra seasoned salt and pepper, as the gravy portion will tone down any seasonings already present. I am a big fan of the heavy cream based gravy, as it's super easy to make. The trouble is, most of the "heavy whipping cream" you find in the local megamarts is just so dang watery. I do prefer the brand that likes to actually show the percentage on the side of the carton, with my favorite being the 40 percent stuff, though lower amounts will do. The watery stuff takes a lot longer to cook down and reduce to a suitable thickness. I suppose you could finish it off with a slurry made from cornstarch and water, as this won't mute the flavor like a slurry made from flour and water will do. The cornstarch has a more neutral taste that won't cover up the meat and seasoning flavors in the gravy.
I like to cook my sausage all the way to where it starts turning crispy. When a recipe says to brown the meat, brown the meat. Don't just cook it through. You want to add more flavor that true browning adds. Don't burn it. No one likes that flavor.
CREAM BISCUITS
6 cups flour
2 tablespoons sugar
2 tablespoons baking powder
1 1/2 teaspoons salt
4 3/4 cups heavy cream
Preheat oven to 450 degrees. In a large bowl, mix together dry ingredients. Stir in cream with a spoon until a dough begins to form. On a floured surface, turn out dough and lightly knead just until the dough comes together. Roll out to 1 inch thick and then cut into 2 inch rounds with a cutter. Bake for about 15 minutes, or until the edges just start to brown. Remove from oven and serve.
DAN'S SAUSAGE GRAVY
1 lb seasoned ground pork sausage
1 quart heavy cream
Seasoned salt and pepper to taste
In a large pot over medium heat, place sausage and break up into small pieces as it browns. When browned to your satisfaction, stir in the cream. Cook gently until cream reduces by half, this could take longer if your cream is of a runnier consistency, but it should still work out. Adjust seasonings as necessary.
REGULAR GRAVY
1 pound breakfast sausage, hot or mild
1/3 cup all-purpose flour
3 to 4 cups whole milk, more to taste
1/2 teaspoon seasoned salt
2 teaspoons ground black pepper,
Biscuits
In a large pot over medium heat, place sausage and break up into small pieces as it browns. When browned to your satisfaction, sprinkle in half of the flour and stir so that the sausage soaks it all up, then add more little by little. Cook, stirring frequently, for another minute or so, then pour in the milk, stirring constantly. Cook the gravy, stirring frequently, until it thickens, about 10 minutes or so. Sprinkle in the seasoned salt and pepper and continue cooking until very thick. If it gets too thick too soon, stir in a little more milk to loosen. Adjust seasonings. Spoon over warmed and split biscuits.
Recent Headlines
---