Fresh News From MarDon
by
2016 & September 2
|
September 2, 2016 1:45 PM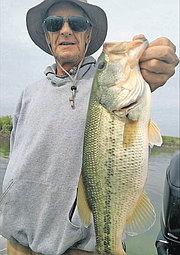 This weekend we celebrate Labor Day, which is dedicated to the social and economic achievements of American workers. This is a yearly tribute to the contributions workers have made to the strength, prosperity and well-being of our country. We also celebrate the finish of the summer season, and look forward to our fall pattern. I'm really looking forward to fall fishing, with cooler weather and lower water levels, the Potholes fishing will only improve.
This past week walleye action has noticeably improved on the face of the Sand Dunes using spinner and worms or trolling Rapala shad raps and Berkeley Flicker shads.
Our largemouth bass action continues very strong throughout Potholes. Lately many trollers are catching 12- to 14-inch crappie on walleye tackle. One angler reported a three-pound bluegill. The state record is 2.4 pounds from Potholes Reservoir. Perch have been caught still fishing at the mouth of Crab Creek. The MarDon dock continues to produce good action.
On Saturday, Sept. 3 MarDon will have a 30 to 50 percent sale off many items, including fishing tackle and gifts. Karaoke will be on Sunday at the MarDon Beach Bar and Grill, from 6:30 to 10 p.m. You can enjoy dinner and drink on the outside patio or if you choose, bring a chair and your choice of drink. Open to all family members.
Recent Headlines
---