A tale of two cheesecakes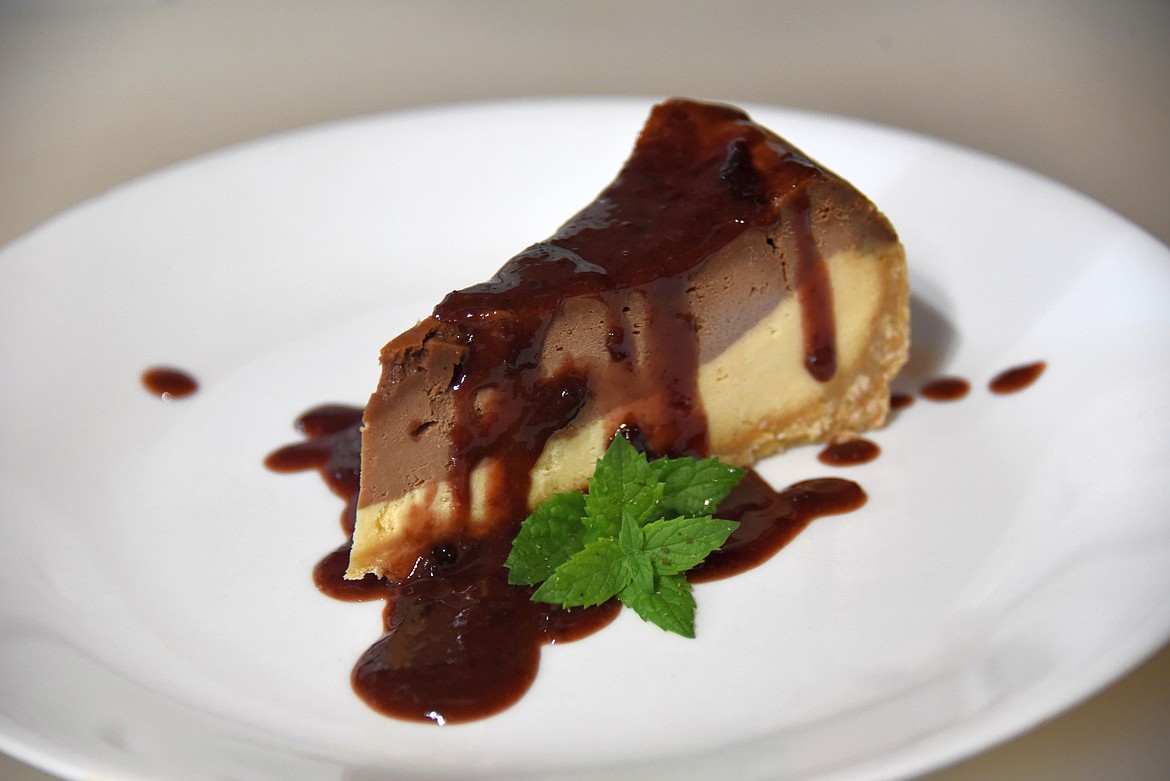 Dan Bolyard/courtesy photo - This two-toned cheesecake can be made with or without a crust.
|
November 22, 2016 2:00 AM
This last week I made up a cheesecake for a birthday. I grabbed my trusty recipe and got to work.
Said recipe has a Moses Lake connection. During my chef school internship at a local Moses Lake restaurant, Mary Ellen Breeden gave me access to a cheesecake recipe from a closed business in the downtown area called Seasons. Perhaps some readers recall the place. Anyway, I made up the recipe at a later time and was not really impressed with it, being a typical New York-style cheesecake. About that same time, I received as a gift a cookbook titled "Cooking with Regis & Kathie Lee." One of the few recipes I liked out of it was for a white chocolate cheesecake written by Chef Tell Erhardt. It didn't include a crust, being just a cooked filling in a springform pan. I paired the crust from above with the filling from the cookbook, and have had a hit on my hands all these years later. I have run the recipe before, but never as written from the cookbook, or my notes from the Seasons recipe. I'll include them all here.
For the cheesecake in the picture, I halved the filling recipe, and made up the other half substituting unsweetened baking chocolate for the white chocolate.
---
WHITE CHOCOLATE CHEESECAKE
8 ounces white chocolate, coarsely chopped
2 pounds cream cheese, at room temperature
1 cup sugar
4 large eggs, at room temperature
1 teaspoon vanilla
Preheat oven to 250 degrees. Lightly butter a deep cake pan or a 10 inch springform pan lined with aluminum foil. In the top of a double-boiler, over hot -- but not simmering -- water, melt the white chocolate, stirring occasionally. (Water that is too hot will solidify the chocolate, making it unusable.) In a large bowl, using an electric mixer, beat the cream cheese until smooth. Beat in the chocolate until smooth. Add the sugar and beat on medium high until combined. One at a time, beat in the eggs, scraping the sides of the bowl after each addition. Beat in the vanilla. Scrape the batter into the prepared pan and shake gently to level the mixture. Set the pan inside a larger pan and pour boiling water into the outer pan to a depth of about 1 inch. Set the pans on the center rack in the oven and bake for about 70 minutes, or until the center springs back when lightly touched. Remove the cheesecake pan from the water bath and cool on a wire rack. Cover the cheesecake and refrigerate for 6 hours, or until cold. To serve, loosen the cake from the side of the springform pan by running a thin bladed knife around the edge. Snap open the springform pan and remove the side and bottom of the pan. Slice the cake with a long knife that has been dipped in hot water and wiped dry.
---
RASPBERRY SAUCE
2 cups unsweetened frozen raspberries, thawed
1 cup sugar
1/2 cup framboise (clear raspberry brandy), divided
In a blender, process the raspberries, sugar, and brandy until smooth. Strain the raspberry sauce to remove the seeds. (I use a jelly bag, but have heard that you can use cheesecloth, muslin or, supposedly, brand-new knee-high pantyhose.) Store the sauce, covered, in the refrigerator. To serve, spoon over slices of cheesecake.
---
SEASONS CHEESECAKE
40 ounces cream cheese
1/4 teaspoon vanilla
3/4 teaspoon lemon juice
1 3/4 cup sugar
3 tablespoons flour
1/4 teaspoon salt
1 cup eggs
2 egg yolks
1/4 cup cream
Beat cream cheese until creamy. Add vanilla and lemon juice and mix well. Mix together sugar, flour, and salt. Add to cheese mixture and mix well. Add one egg at a time, beating well between each, doing the same for the yolks. Stir in cream and mix well. Pour into crust (see below). Bake at 450 degrees for 12 minutes. Reduce heat to 300 degrees and bake for 55 minutes or until a toothpick comes out clean. Chill well before removing springform pan. When cold, snap open springform pan and remove side. Loosen aluminum foil around bottom pan and remove pan from foil. Peel aluminum foil from cheesecake. Cut into slices and serve.
---
SEASONS CHEESECAKE CRUST
2 1/4 cups flour
1/2 cup sugar
2 tsp lemon juice
1 cup butter
1 egg yolk
1/2 tsp vanilla
Combine flour, sugar, and lemon juice. Using a pastry blender, cut in the butter until crumbly. Add the egg yolk and vanilla and mix in well. In the bottom part of a springform pan lined with aluminum foil, pat 1/3 of dough evenly to the edges. Bake at 400 degrees until lightly browned. Cool. Attach bottom to sides and pat remaining dough on sides, about half way up or slightly more. Fill with cheesecake batter and bake as directed.
Recent Headlines
---