Fresh News From MarDon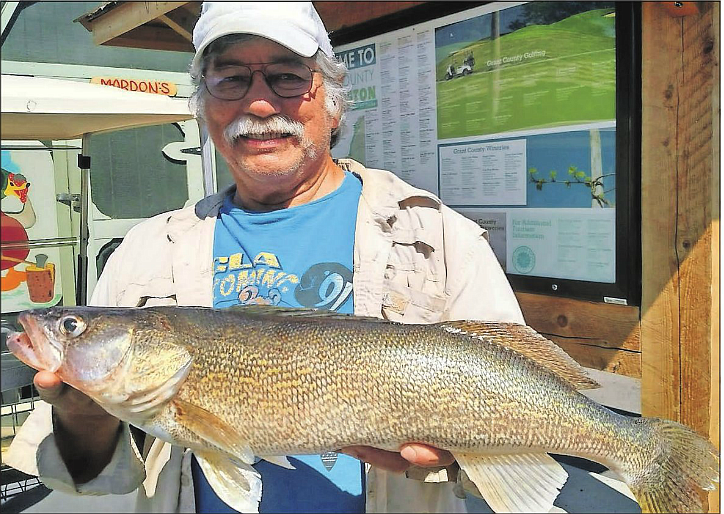 Milo with a 28 inch walleye caught between Goose Island trolling back to MarDon on a spinner and crawler combination.
|
August 26, 2016 1:45 PM
Bass fishing has been very effective in the Sand Dunes, finding current flows, beaver huts and underwater wood & weed lines. Crab Creek continues to produce an amazing amount of 2 to 4 pound largemouth. Many serious anglers are catching and releasing largemouth over 6 lbs this past week. Remember to always use extreme caution when boating in the Sand Dunes area. Smallmouth and some largemouth bass have been good on the face of O'Sullivan Dam. Some great smallmouth reports are coming from the Goose Island area. Be alert to the rock piles between Goose Island and Hwy 262. The Lind Coulee has had some good smallmouth reports, also.
Walleye trollers are catching more walleyes this week on spinner and worm combos, also Rapala Shad Rap and Berkeley Flicker Shads. They are also catching crappie, perch, smallmouth and largemouth, along with some trout.
The MarDon fishing dock continues to provide action for fishers of all ages. It's time to take a kid fishing on Labor Day, get one more outing in before school starts.
Don't forget the MarDon Lake Games and Beach Party with this year's theme Gilligan's Island, August 27, 2016, featuring a boat poker run, with island games, followed by fun, social beach party and music. Sign ups are in the Beach House Restaurant Friday 6pm-9pm and Saturday morning 9am-11am.
The MarDon Dock Tournament for 2016 is scheduled for 9/16-9/18/16. If you would like to sign up just come out to our office and fill out an application or give us a call and we can also do it over the phone @ (509) 346-2651.
Recent Headlines
---