Fresh News from MarDon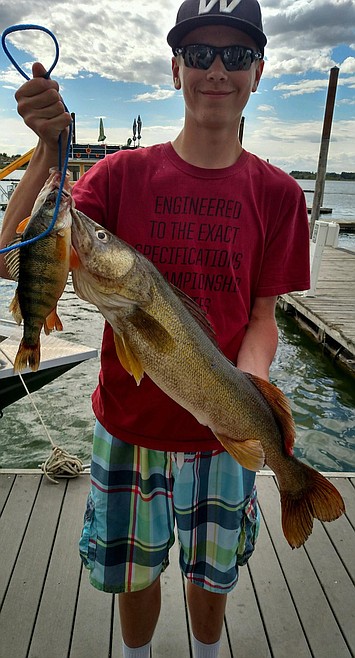 Jadon Seibel of Port Angeles with a 9.4-pound walleye off Goose Island with a double whammy.Courtesy photoJohn Pegee and Susan Easton of Tacoma with nice crappie caught off MarDon dock.
|
August 12, 2016 1:45 PM
Bass fishing on Potholes Reservoir has been great. Our water level on Potholes is beginning to go down. Current water level as of today is 1034.65 and will be dropping at 2/10 per day. On Aug. 8 I went bass fishing on the Potholes and drove my walleye boat to the Job Corps dike, which hasn't been possible since after Mt. St. Helens erupted in 1980. Our farmers didn't buy irrigation water because of the volcanic ash which sealed in moisture. With our unusually high water on Potholes many largemouth in the dunes are putting on additional weight. Many beaver huts near the Job Corps dike are filled with a vast number of new bluegill, crappie and perch under 1 1/2 inches in length, plus an amazing number of three- to four-inch largemouth bass. Each beaver hut looks like an aquarium, with an overabundance of feed.
Walleye always feed on all of these minnows that have not left the sand dunes; hence, walleye action has been slower for most. As the lake lowers and the new feed leaves the sand dunes the walleye will follow the bait.
With Central Washington weather forecast for well above normal temperatures through October, we can only hope farmers use vast amounts of water to irrigate crops into October. This will move the walleye to traditional locations in Crab Creek, Frenchman's Wasteway and Goose Island.
In the meantime, this past week MarDon dock has been producing crappie, perch, bluegill, catfish, some bass and trout.
This weekend, Saturday and Sunday, the Championship for the Washington Walleye Circuit will be held at MarDon Resort. The event starts at 5:30 a.m. both days and concludes at 2:30 p.m. Everyone is welcome to attend the weigh-in. The Central Washington Fish Advisory Committee (www.cwfac.org) will hold a raffle of donated items. All monies earned by CWFAC will be used to build more habitat boxes to be placed in Potholes Reservoir. The raffle is on Sunday afternoon.
Another CWFAC Fundraiser Event is on August 2, the Lake Games and Beach Party. Call (509) 346-2651 to join in the fun.
Recent Headlines
---