Superior Court judge earned his way through life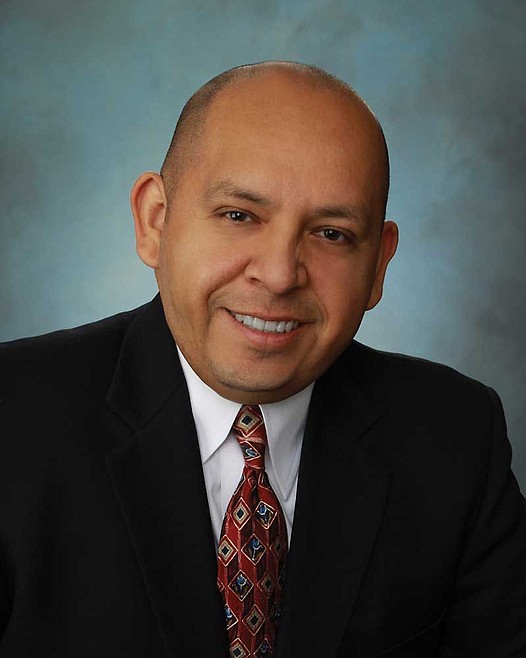 by
Royal Register Editor & Ted Escobar
|
August 31, 2015 6:05 AM
OLYMPIA - Gov. Jay Inslee announced last Wednesday that he has appointed Moses Lake attorney David G. Estudillo to the Grant County Superior Court.
Estudillo's deceased parents would be proud, Estudillo said. He has risen from the family's humble beginnings in America to the position and title of judge.
According to the governor's office, Estudillo will be the lone Latino superior, district, or municipal court judge serving in all of eastern Washington.
Estudillo will take over a seat vacated by retired Judge Evan Sperline. Estudillo's term takes effect in September, according to the governor's office.
Estudillo has practiced law as an attorney in Washington state since 1999 and has been the principal attorney and owner of Estudillo Law Firm, PLLC, in Moses Lake.
Estudillo has served on the Washington State Bar Association's Rules of Professional Conduct Committee and the Court Rules and Procedures Committee.
"David has been a leader in Washington's legal community for many years," Inslee said. "He has worked tirelessly as an attorney, community leader, and public servant. His commendable efforts and commitment to justice make him the right choice for the bench."
Estudillo was born and raised in Sunnyside. He is part of the family that owns and operates the Estudillo's grocery stores in Royal City, Mattawa and Sunnyside.
The business was started by Eloy Estudillo with a single store in Sunnyside. Ownership went to his oldest son Sergio after he died, but the business is shared by all family members and most of them have a role to play. David serves as the family business's attorney.
"My parents came to the United States from Mexico in the early 1960s via the Bracero Program," Estudillo said. "My mother attended only a couple of years of elementary school in Mexico, and my father earned his GED after formally immigrating."
Estudillo's parents became small business owners and were able to move away from agricultural labor. His parents' hard work, sacrifices, and examples were vital to his education and career.
"I cannot imagine my life had they not taught me the value of faith, family, education, hard work, and community," he said.
Estudillo has fond memories of his days in that Sunnyside store. He swept floors and stocked shelves as early as the age of 4.
"I don't have a childhood memory of anything else but being in that store," he said.
There were 10 Estudillo children. Their parents stressed the value of education and hard work, and all of them graduated from high school and eight from college.
"My older brothers and my parents kept stressing college; I just grew up with that," Estudillo said.
Four of the other seven who went to college work for Seattle City Light, for Starbucks in accounting, as a nurse and as a professor in New Jersey. One has retired, and Sergio runs the grocery business. Two sisters work in the grocery business.
The Estudillos lived by old school Mexican tradition. They all worked at the store, but they were not on the payroll.
"Everything was for the family's benefit," he said. "I got the foundations of hard work and responsibility there."
The family didn't pay for all of Estudillo's college but, when he came home on weekends, his parents gave him spending money and money for some of his expenses.
Estudillo started his post-secondary education at Columbia Basin College, where he studied two years. He earned his undergraduate and Juris Doctorate degrees from the University of Washington between 1993 and 1999.
Estudillo, fluent in Spanish and English, ranked near the top of the candidate pool in a survey commissioned by the Grant County Bar Association that was completed in July. The Grant County Bar commissioned the survey to help Inslee in his selection and to help educate the public on each of the candidates.
Estudillo was rated second-most qualified in legal knowledge and temperament, and third-most qualified each in integrity, experience, and suitability. He was one of three candidates who were rated by Grant County Bar members to be at least "qualified" in all five categories.
Estudillo is married to a woman who was originally from Moses Lake. They have three children, ages 6, 5, and 3.
The Estudillos moved the family to Moses Lake in 2012 after having lived in Seattle from 2002 to 2012. The children are involved year round in youth activities, including swimming, soccer, T-ball, softball and basketball.
"It brings me great joy to see my kids develop in school and in sports activities," Estudillo said. "My wife and I try to be involved in our children's school and church. Our goal is to promote our children's development."
Estudillo passed the state bar exam on his first try. He was admitted to practice by the State of Washington on Nov. 3, 1999. He was admitted by the United States District Court, Eastern District of Washington on July 5, 2001, the United States District Court, Western District of Washington on Nov. 24, 2003 and the United States Courts of Appeals, Ninth Circuit, on Aug. 9, 2010.
Estudillo launched his career with Jeffers, Danielson, Sonn & Aylward, P.S. in October of 1999. He was assigned to its Moses Lake satellite office, which is now closed.
Estudillo moved on to Scheer & Zehnder, LLP in April of 2002. It was a litigation firm focusing on insurance defense work, insurance coverage, and some plaintiff personal injury matters.
In September of 2005, Estudillo launched Estudillo Law Firm PLLC in Moses Lake. The firm focused on immigration and general civil litigation. The firm represented detained and non-detained clients before the Immigration Court and the Board of Immigration Appeals.
It also represented persons seeking immigration benefits via affirmative applications filed with United States Citizenship & Immigration Services ("USCIS").
Eighteen months after starting the firm, Estudillo was accepted as Panel Counsel for Liberty Mutual Insurance Company and began receiving some insurance defense assignments involving construction defect claims.
There is a sad side to being named to Superior Court. Estudillo is in the process of closing his firm and letting his employees go.
Estudillo takes the position of Superior Court judge very seriously. He said he will be an impartial judge no matter who comes before his court.
"Of significant importance is maintaining the integrity of the judiciary and helping promote access to justice," he said. "A judge must be impartial, competent, articulate, fair, cognizant of the issues, organized, approachable, etcetera. It is my goal to exhibit these traits to the parties who appear before me and to the community."
It was always a goal of Estudillo's to become a judge. When he learned Judge Sperline was retiring, he discussed whether to apply with his wife and a few local attorneys.
"Eventually, I came to the conclusion my personal and professional experiences would have a positive impact on our local judiciary," he said. "I would not have applied if I did not feel I was competent or able to positively contribute to the local judiciary."
Recent Headlines
---