Mattawa residents upset over murder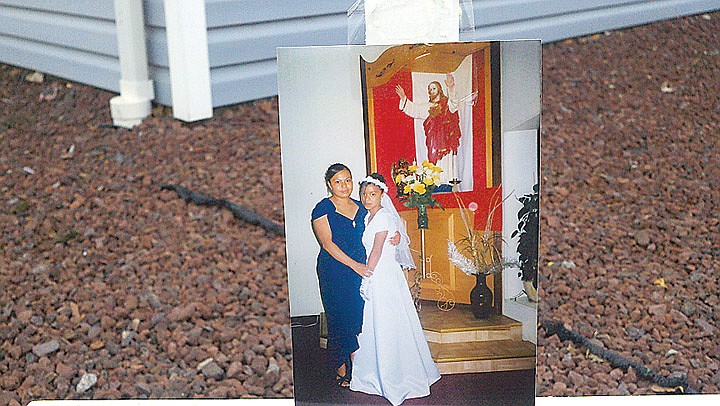 A photograph of Esperanza Vicente-Mestizo, at left, standing with an unidentified woman hangs on a display near where Vicente-Mestizo was shot and killed in Mattawa. Police are still looking for suspects in the case, which also claimed the life of the woman's unborn child Feb. 11.
by
Royal Register & Ted Escobar
|
February 22, 2012 5:05 AM
MATTAWA - Mattawa residents gathered at a city council meeting to ask about emergency services handling of the murder of Esperanza Vicenté-Mestizo and her unborn son on Feb. 11.
About 30  people appeared at the meeting, according to City Clerk Robin Newcomb.
The council ended its meeting after 10 minutes and Mattawa Police Chief Steve Jensen, two Grant County sheriff's deputies and an emergency medical technician (EMT) from Grant County Fire District 8 began talking with residents.
"We had an idea they'd be here. So we prepared ourselves to answer their questions," Newcomb said. "I think all the questions were answered. People mingled and chatted afterward. They were calm."
Newcomb said the people had reasonable questions, but some seemed to be making accusations. She said some were fueled by rumors and false information, and there seemed to be a lot of frustration.
No suspect or suspects have been identified in the murder of Vicenté-Mestizo, 28, and unborn baby boy. According to Chief Deputy Ryan Rectenwald, detectives have been working around the clock since the shooting.
"Investigators are following many, many leads and gathering evidence which they hope will lead them to the suspect or suspects," he said. "In spite of investigators' efforts, there are no breaks in the case and no updates regarding the investigation."
Rectenwald indicated authorities are frustrated and have been touched emotionally by the case.
"It's important for everyone to remember a young mother was killed along with her unborn son," he said. "She left behind three children under the age of 12, as well as a common-law husband and many relatives."
"The Grant County Sheriff's Office expresses its deepest and sincerest condolences to the family and friends of Esperanza," he added. "Our thoughts and prayers are with you all during this sorrowful time. This was an incredible loss, and we pray for a successful conclusion."
Sympathy was also provided by Grant County Coroner Craig Morrison.
"This is an extremely sad incident, since this shooting claimed not only a 28-year-old woman but her unborn child as well. We extend our deepest sympathies to the victim's family and friends," he stated earlier in the week.
Detectives have said from the beginning they don't believe Vicenté-Mestizo was associated with any street gang. They also don't know who or why someone would target the young mother and shoot her while she was unloading groceries from her car.
But they believe someone knows something that would help.
"We understand people may be scared to come forward, but without help from the public, it will be difficult to solve this crime and hold accountable that person or persons responsible for this terrible act," Rectenwald said.
Vicenté-Mestizo and her son died after the mother was shot in the torso outside her apartment complex on Third Place at about 11 p.m. on the Feb. 11. Investigators say Vicenté-Mestizo was unloading groceries from her car when someone opened fire on her from the parking lot of her apartment complex and then fled on foot.
Mother and unborn child died at the Othello Community Hospital after being transported by Fire District 8 ambulance.
The transportation came under public scrutiny.
Some residents thought the pair could have been saved.
One of the most pointed questions was about the choice of hospital. Newcomb said the answer was that only Othello could gather the medical team that was needed at that moment. She said the hospital in Yakima and one in Richland were unable.
In addition, Othello was closest of the three choices. It was a foggy night, making a Medevac helicopter unusable.
Another question was why the baby wasn't delivered, Newcomb said; adding the question appeared to  bewilder the emergency services panel.
There was a question about response time, with a member of the group saying they'd heard it took at least half an hour. A check of the record showed response time, after the "shots fired" call, to be 45 seconds.
One resident reported that Vicenté-Mestizo's partner claimed the 9-1-1 operator wasted time with "too many questions," Newcomb said. The audience was told normal procedures were followed to assure no mistakes were made.
To a question of public safety in the aftermath of the shooting, authorities could give no definitive assurance, Newcomb said. And one deputy put that question on the shoulders of those gathered and the community.
"He said that from about 1,000 people (estimated) who could have heard the shots, there were only two  9-1-1 calls," Newcomb said. "A detective said that when he knocked on doors where music was playing (while investigating), the music stopped but no one answered."
Investigators in Grant County are asking the public to help find the suspect or suspects in the Feb. 11  murder.
Anyone with information about the murder is asked to call the Grant County Sheriff's Office at 509-762-1160, or send information to crimetips@co.grant.wa.us. Tipsters can remain anonymous.
Recent Headlines
---