Some still skeptical of Moses Lake's managed camp for unsheltered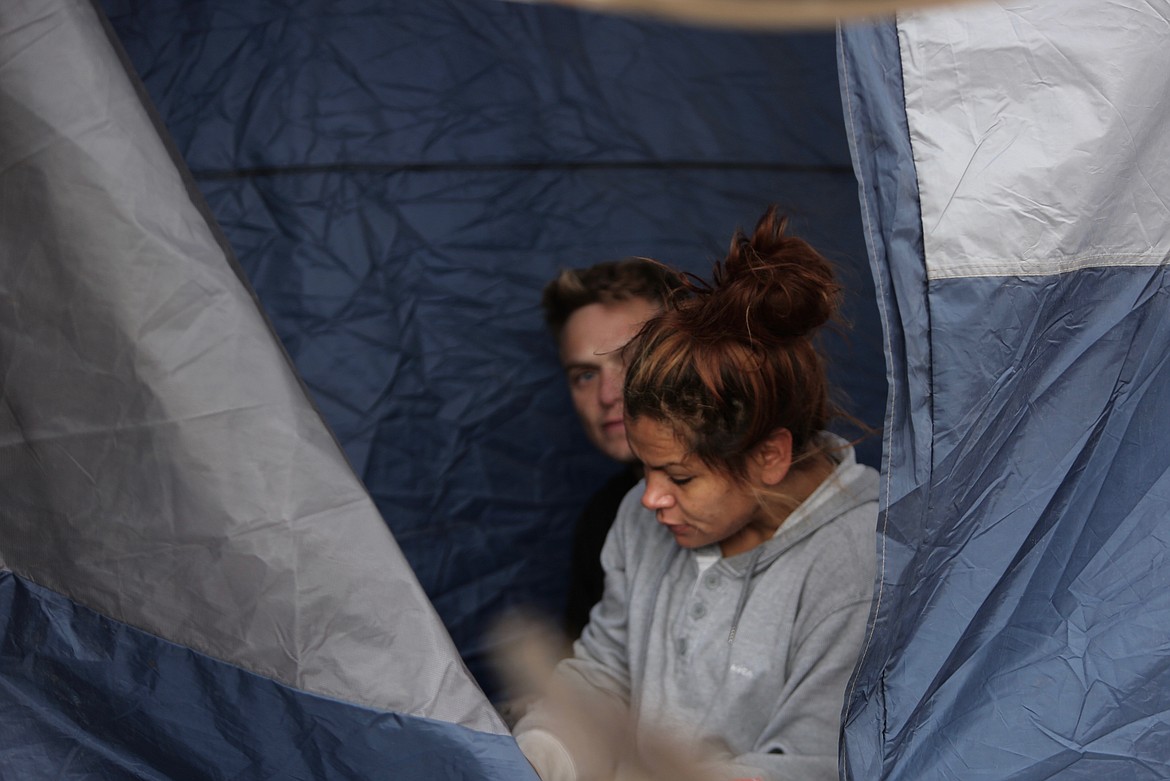 With the skewed steel grate of their fire pit hanging in the foreground, Kurtis Larson and Feliz Espino huddled in their tent to stay warm Monday afternoon as the temperatures briefly rose above freezing.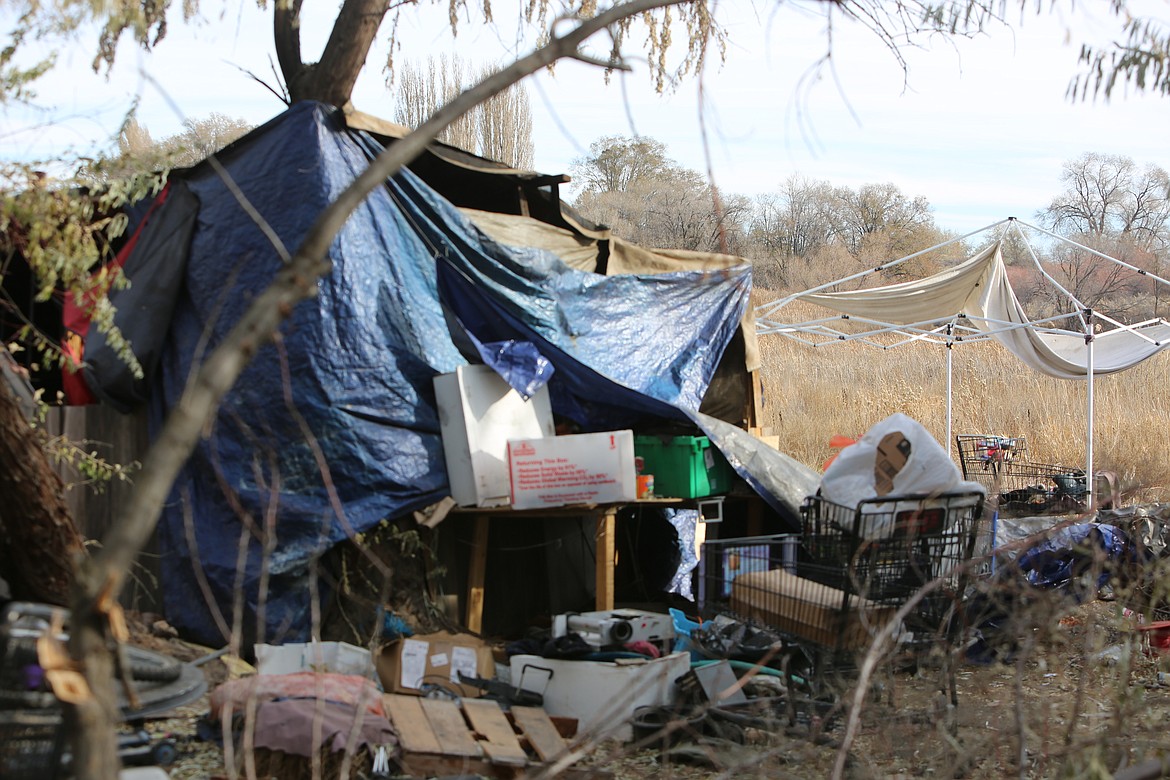 While they had been deprioritized by local law enforcement since a 2019 Circuit Court decision, police will be able to resume enforcement of illegal encampments on public land once the new managed camp opens its doors--so long as it and other resources aren't completely filled up.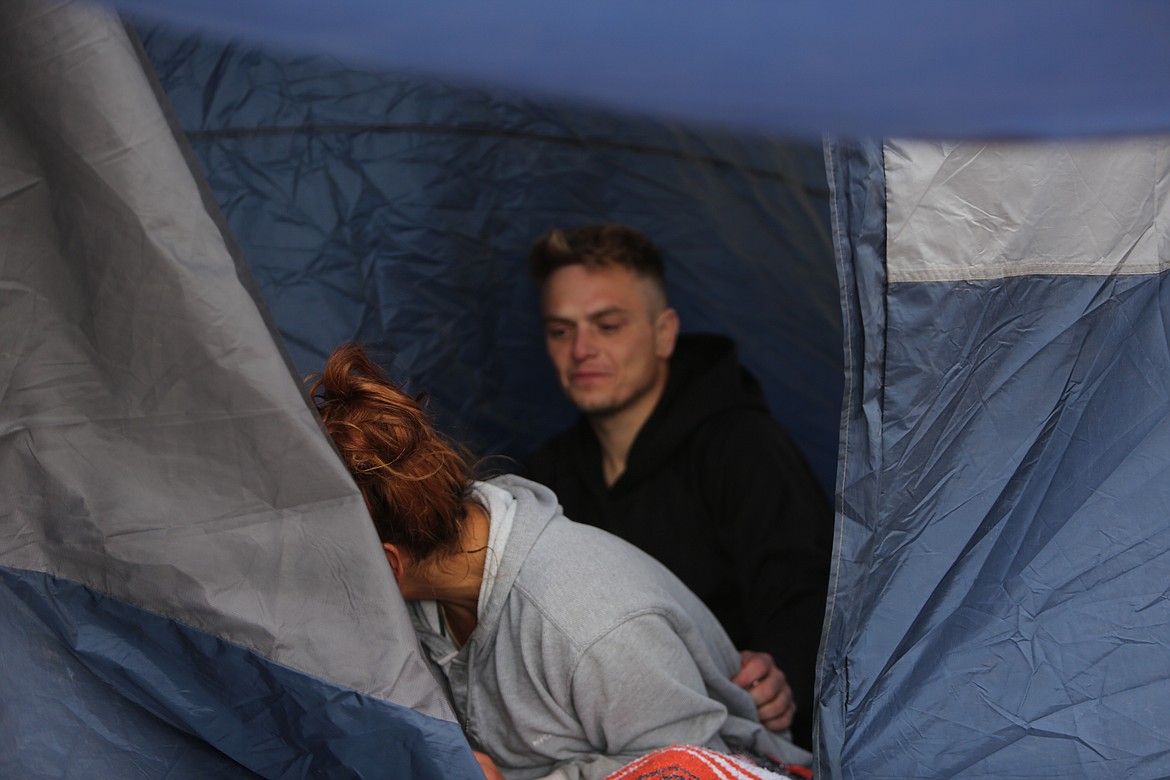 Kurtis Larson and Feliz Espino were still huddled in their tent Monday afternoon trying to stay warm while temperatures briefly rose above freezing.
Previous
Next
by
EMRY DINMAN
Staff Writer
|
November 10, 2020 1:00 AM
MOSES LAKE — With the thermometer just north of freezing Monday afternoon, Kurtis Larson and Feliz Espino were huddled in their tent behind a local grocery store trying to stay warm.
"I mean, you see," Larson said, pointing at the small fire pit next to the tent. "We're surviving."
With Grant County's first managed camp for unsheltered people, made up of a few dozen "tiny homes" with just enough space for a bed, set to open in the next week or so, Larson said he's skeptical about the program the city is setting up.
"I heard that there's little shacks that they're building and there's no heat in there, which would be basic, I would think, for getting out of the cold," Larson said.
While there will be external heating units, the tiny facilities themselves won't be hooked up to electricity or heating, said Taylor Burton, Moses Lake's coordinator for housing and grants, in a recent interview.
This could be an issue in the middle of winter, Larson said, if he is even guaranteed a unit in the first place.
The units are technically allotted on a first-come, first-served basis. There will be 20 units available when the site opens later this month, Burton has previously said, but a total of 35 will be available soon after.
At the start of 2019, local organizations tallied 82 unsheltered people countywide, of whom 52 were living in the Moses Lake area.
"Why don't they just build one building where everyone can go in, like the warming center they had a couple years ago?" asked Larson, who hasn't had a home for around three years. "Now you're going to have to turn away people, and that's not what a warming center should be, turning away homeless people."
However, city officials have previously expressed skepticism that all available units would be filled, particularly when an additional 30 emergency shelter units are opened in a converted hotel sometime this winter.
Regardless of capacity, all people staying at the managed camp will be asked to leave by 8 a.m. City officials have also expressed that after the winter is over, people will be asked to leave by 6 a.m. and will not be allowed to return until 6 p.m., with a final cutoff for checking in at 10 p.m.
"That's a little ridiculous, because it starts getting cold if we're outside at 5 o'clock at night, and by the time people are froze, they're not going to want to get out of their tent and go over there at 9 o'clock at night," Larson said.
But, Larson and Espino were quick to add they were grateful that shower services will be provided on-site.
Another woman sleeping in a dilapidated tent wreathed by thorny Russian olive trees, who asked not to be named, said that she's been living on the streets for about a month and has been freezing at night in recent weeks. She said she was grateful for any kind of shelter more substantial than the summer-weather camping tent she's living in now.
She is nervous about other people walking near her tent, she said Monday, because her clothes and other belongings have been stolen before. While she hopes to be able to access laundry services through the new shelter, mainly she just wants rules at the managed camp to be enforced so that others don't cause her any more trouble, she added.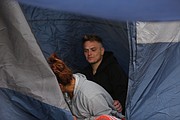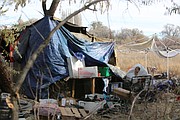 ---