Community rallies to support Moses Lake girl fighting bone cancer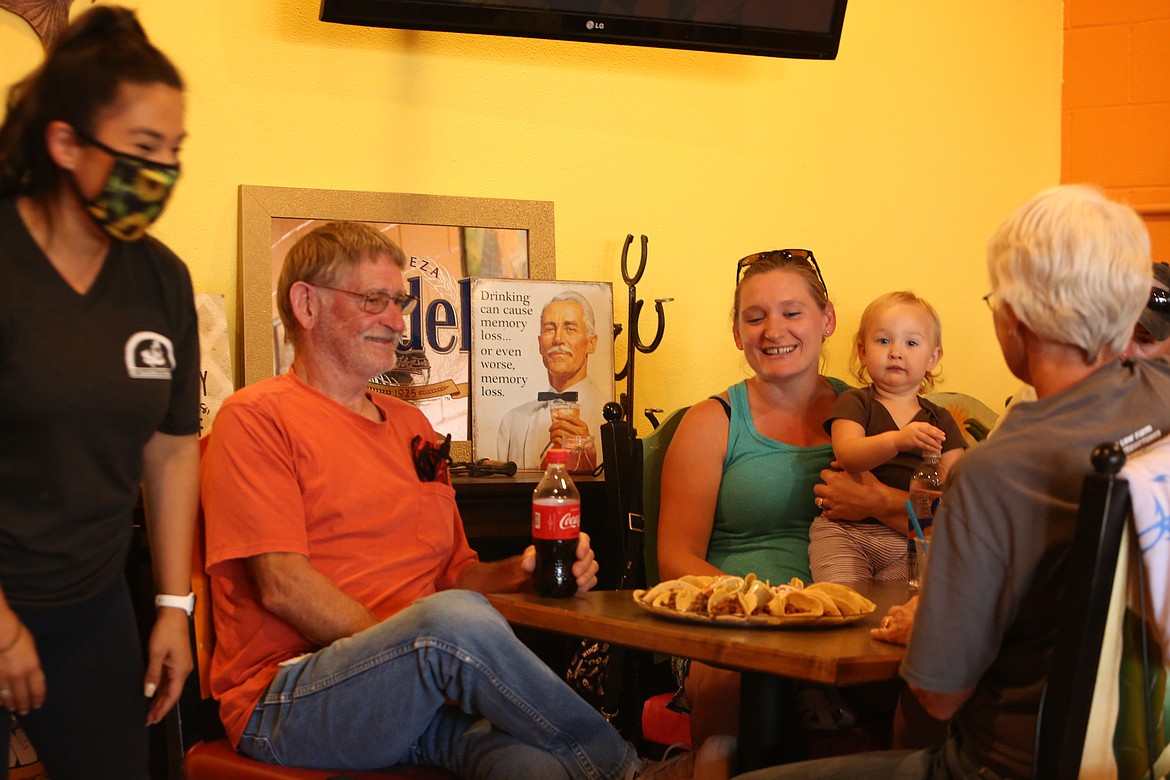 Emry Dinman/Columbia Basin Herald Andrea Villafana, left, serves a platter of tacos to a family Saturday at Mi Cocinita and Groceries in Ephrata, during a fundraiser for Moses Lake girl Emma Claire Tatum. Inspired by fundraisers by other local businesses in recent weeks, twenty-five percent of Mi Cocinita's proceeds during the fundraiser went to Emma and her family.
by
EMRY DINMAN
Staff Writer
|
August 31, 2020 1:00 AM
EPHRATA -- Members of the community came to Mi Cocinita in Ephrata Saturday afternoon to share tacos and margaritas in support of a 14-year-old Moses Lake girl recently diagnosed with stage 4 bone cancer.
Dozens came out to the grocery store and restaurant, with 25 percent of the proceeds from food and a raffle going to Emma Claire Tatum and her family as she undergoes treatment at Sacred Heart Children's Hospital in Spokane.
According to her family's CaringBridge page, which provides a way to keep updated on causes, Emma was diagnosed at the beginning of July with Ewing's sarcoma, a rare type of bone cancer most common in younger people. Emma's mother, Carrie Tatum, started posting daily updates to the page just a few weeks after the diagnosis, showing her daughter's progress through the difficult treatment.
After recent fundraisers in the community for Tanner Williams, a 26-year-old Ephrata man who was partially paralyzed in a devastating accident, the Villafana family, which owns and operates Mi Cocinita, was inspired to hold its own, said Andrea Villafana.
"We saw the community really come together, so we decided to help Emma and her family and help them get them through hard times," Villafana said.
With a family member of their own battling lymphoma, Villafana said her family wanted to help take some of the burden off Emma's family.
The Tatum family has also been receiving spiritual support in recent months, with regular calls for prayer from the Cor Christi Camp, a week long Catholic camp. When the organization launched three years ago, Emma was the first one who signed up, said camp Director Michael Drollman, who has kept up with Emma's journey through her mother's journal entries on CaringBridge.
Now, Drollman said, thousands of campers and their families are praying for her.
"I love these kids, and Emma now just has a special place in my heart," Drollman said. "To have stage 4 cancer at age 14, that just doesn't seem fair."
Now on week nine of what's projected to be a 31-week journey, Emma was able to take a weekend and return home to Moses Lake, taking some time away from Spokane before she returns for a round of chemotherapy, Carrie said in a Sunday interview.
Thankful for the community's support, Carrie said they encourage donations to the Columbia Basin Cancer Foundation.
"We have the opportunity to live with my mom in Spokane, but a lot of people in Moses Lake don't have that advantage," Carrie said. "Giving to the Columbia Basin Cancer Foundation is also a great way to help others who have cancer and who don't have the resources we have right now."
Another great way to help cancer patients, Carrie added, is to donate blood.
"(Emma's) in week nine and she has already needed five bags of blood," she added. "Giving blood is another way to support us and our journey, because it's important."
---